In the current climate, it was only a matter of time before someone I really have liked and respected was going to be outed as having acted sexually inappropriately in the past. This time, there is photographic evidence: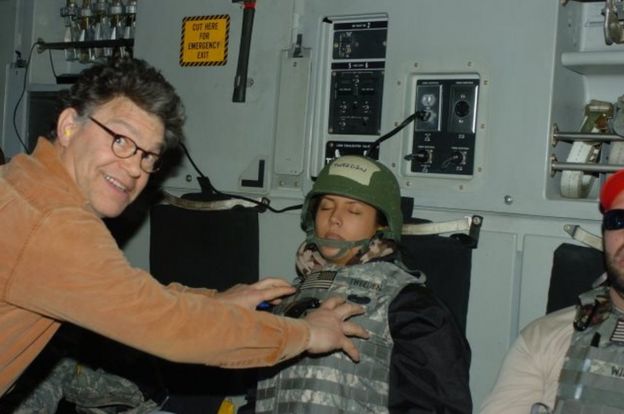 That's Democratic U.S. Sen. Al Franken of Minnesota apparently pretending* to grope a sleeping woman (radio newscaster Leeann Tweeden) during a U.S.O. tour in the Middle East in 2006.
From his expression, he fairly clearly thinks that it's pretty fucking funny. Of course, it isn't, which he has acknowledged, and he has apologized for his inappropriate, immature, abusive, disrespectful act, and Tweeden has stated that she accepts his apology and that she doesn't believe that he should step down.
To me, that's pretty much case closed.
More disturbing to me than the frat-boy-level photo above is Tweeden's allegation that Franken, under the guise of rehearsing a skit that he wrote that (rather conveniently) required him to kiss her, kissed her forcefully against her wishes (and gave her tongue, she adds).
Such unwanted contact constitutes sexual battery, in my book, but Franken said that "While I don't remember the rehearsal for the skit as Leeann does, I understand why we need to listen to and believe women's experiences."
He immediately added: "I am asking that an ethics investigation be undertaken, and I will gladly cooperate."
So: This contact between Franken and Tweeden happened in 2006, before Franken became a U.S. senator in 2009. (And in Tweeden's own words, "Franken had written some skits for the [U.S.O.] show and brought props and costumes to go along with them. Like many U.S.O. shows before and since, the skits were full of sexual innuendo geared toward a young, male audience." That's some context, and context matters.)
The New York Times reports that "Ms. Tweeden said that no one else witnessed the [alleged forced] kiss, and she did not tell the tour's organizers [about it]." (Indeed, Tweeden's own words to this effect are here.)
Franken couldn't have been convicted of sexual battery at the time even if Tweeden had gone to the authorities, because they apparently have different versions of the same event that no one else witnessed. Legally, it seems to me, that's pretty much that.
It seems to me that absent a felony conviction, which should disqualify anyone from becoming or remaining a U.S. senator, it's up to the voters of Minnesota to decide Franken's fate when he comes up for re-election in 2020, assuming that he decides to run again.
It's probably safe to say that any hope that Franken might have had about running for president in 2020 is dashed — even though "President" Pussygrabber bragged about grabbing women by the pussy and still became "president" — but I refuse to write Franken's political obituary today. I believe that he can come out better and stronger for this (and that yes, hell — who knows? — he still might become president one day).
No, I don't condone sexual harassment of any kind, from non-body-contact sexual harassment, such as making unwanted sexual remarks to taking a photo of you pretending to grope someone sexually to exposing yourself to someone who doesn't want to see your goods, to actual body-contact sexual harassment, such as actual groping or forceful, unwanted kissing.
But nor is it productive to take the stance that we should utterly fucking destroy anyone who has misstepped.
That self-righteous revenge-seeking goes beyond justice and becomes a crime in and of itself; that is, to assert that those who can be redeemed cannot be redeemed, but must be destroyed for the rest of their lives, is to commit yet another type of violence against the human spirit.
P.S. Two more things:
One, there seems to be a definite double standard where Democrats and Repugnicans are concerned. Again, "President" Pussygrabber in 2005 bragged, on tape, about grabbing women by the pussy and kissing them without their consent, and yet that was A-OK with enough voters to allow him to take the Oval Office.
Two (which is related to one), what U.S. Senate candidate Roy Moore of Alabama has been accused of, especially the under-aged shit, is much worse than what Franken has been accused of (and was photographed doing), but even for a backasswards, right-wing piece of dog shit like Moore, I would say that absent a felony conviction — that is, he had had his day in court and was found guilty by a jury — it still would be up to the voters of Alabama to decide whether or not to send him to the U.S. Senate. (And then the Senate could, I understand, refuse to seat him, although I'm not sure of all of the legalities on that.)
But let's not compare Al Franken to Roy Moore (or to "President" Pussygrabber). Franken so far has had one accuser, who was an adult at the time. Moore thus far has had at least eight accusers, some of whom were under the age of 18 at the time of their reported events.
—
*To grope someone is to touch him or her with your hands, and while the incident in the photo widely has been described as a groping, to me it appears to be Franken pretending to be groping or about to grope the sleeping woman. Not that even pretending to do so is OK, but it's not as bad as actually groping. There are levels of bad.