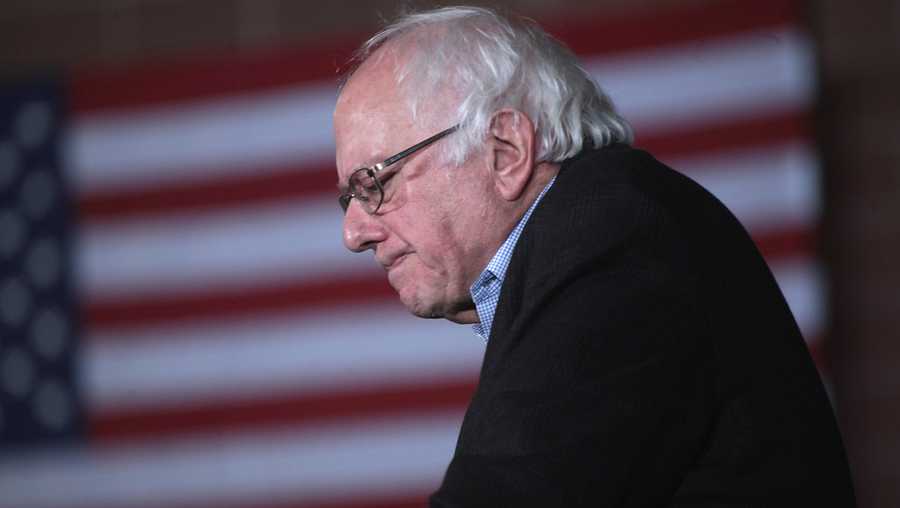 That's about how I feel.
Bernie Sanders is a bit of a sad figure to me these days.
I still get his long e-mails about what a piece of shit the "president" is (no, he'd never use that kind of language, of course, but the meaning is the same) and all of the steep challenges that face us (it's not always, um, uplifting to read his e-mails).
Thing is, Bernie is fairly political powerless, at least in terms of presidential politics. I give him credit for still doing what he can, but he ran for president twice and I don't see him running a third time. (Hidin' Joe Biden ran three times, but he put a lot of years in between his runs: 1988, 2008 and 2020.)
Bernie is, I think, too nice, too conciliatory. I don't think that that works in today's political environment, perhaps especially given how craven the so-called Democratic Party has become.
No, Bernie never had to be an asshole like "President" Pussygrabber, but he could have stood his ground more forcefully. Yes, Billary Clinton's illegal shadow e-mail set-up was something, was not nothing — and although he gave her a pass, the Billary-led Democratic National Committee fucked Bernie over anyway — and Bernie also was way too nice to Joe Biden, and the result of that was that right before Super Tuesday, Biden & Co., center-right corporate-whore assholes all, suddenly closed ranks in order to tank Bernie's campaign; no way could these sellout turncoats allow an actual progressive to win the Democratic Party presidential nomination.
In politics, probably especially presidential politics, politeness does not pay.
I get it that after the 2016 and 2020 Democratic Party presidential primary contests, Bernie has had to return to the U.S. Senate, so he couldn't annihilate his bridges in his quest for the Oval Office. But he has been too damned nice, and in today's presidential politics that is perceived as weak.
You can be strong without being an asshole — Alexandria Ocasio-Cortez is an example of that. She takes a lot of heat from the wingnuts but she gives it right back — better than it was thrown at her.
I don't regret that I supported Bernie Sanders in 2016 and 2020, including having donated hundreds of dollars to him and having voted for him in the presidential primary elections. I believe that Bernie has laid the groundwork for a progressive takeover of the corporate-whore Democratic Party.
Sometimes you have to look at the big picture. Wingnut Barry Goldwater lost big-time in 1964, but few who are knowledgeable disagree that he laid the groundwork for the "Reagan revolution" of the 1980s (which began the downfall of the United States of America).
It's possible, if not probable, that what's going to be required for the Democratic Party to ever become progressive again is that all of the center-right old fucks who call themselves Democrats (most of them baby boomers, of course) will have to die off, and year after year they'll be replaced by younger Americans who subscribe to progressivism.
Indeed, the United States' youth and young adults, having been set up to fail at birth, and realizing very personally how very fucked up it is to screw over the generations that are following yours, might save the nation that the baby boomers and those older than the boomers have destroyed out of their bottomless selfishness and greed and incredible short-sightedness. From the ashes might rise a United States truly made great again.
And while Bernie Sanders probably won't live to see that promised land, if it materializes, he was instrumental in its creation. He will have been a founding father of the new nation.
In the meantime, while I still respect Bernie, he is not my boss.
I get Bernie's e-mails encouraging me to vote for Hidin' Joe Biden. I will not vote for Biden.
Again, I live in California, one of the bluest states there is; there is no question that Biden will win California and all of its 55 electoral votes.*
Again, if you live in one of the swing states — Arizona, Florida, Nevada, New Hampshire, Michigan, Minnesota, North Carolina, Ohio, Pennsylvania or Wisconsin* — then I encourage you to vote your conscience, but I have the luxury of not having to worry about helping Pussygrabber get a second term, since it's a foregone conclusion that Biden will win my state and all of its electoral votes.
(No, I don't give a fuck about the popular vote, since it doesn't determine who becomes president. It should, but it doesn't. Bragging rights about having won the popular vote don't give you the presidency and the political power that comes with that. Ask Billary Clinton.)
If I had to put money on it, I'd say that Biden will beat Pussygrabber in November, for several reasons, but primarily because of COVID-19 and its socioeconomic effects. The economy tends to be the No. 1 factor in a president's re-election ("re"-election, in this case), and I don't see the train wreck that is the United States improving nearly enough between now and Election Day for Pussygrabber to pull out a win, even just an Electoral College win, as he did in 2016.
Also, lucky Biden is benefitting from being able to use COVID-19 as an excuse, valid or not (mostly valid, probably), to not have to run a traditional presidential campaign. Less campaigning means fewer of Biden's, um, senior moments. Less campaigning means that voters largely will be voting for the Joe Biden of yesterday, not of today.
What would I expect a Biden presidency to look like? Much like the Obama presidency looked like: nice words, little substance, negligible improvement in the average American's life.
Barack Obama for the most part was a caretaker president, and after the Repugnicans won back the U.S. House of Representatives in the 2010 midterm election (and kept the House until the 2018 midterm election), there was no way that they were going to allow Obama to have any progressive victories. You don't even try to negotiate with terrorists like the Repugnicans, but the naive and probably arrogant Obama did so right out of the gate — probably the No. 1 mistake of his presidency — and the rest is history.
I expect a Biden administration to make the same mistakes that the Obama administration did. (After all, stuck-in-the-past Biden thinks that parents still routinely use record players for their children.)
If the Democrats win back the White House, the U.S. Senate and the U.S. House in November, which is quite possible, I expect them, "led" by Biden, to squander their political capital with their bipartisan "Kumbaya" bullshit, just as Obama did when, in the first two years of his presidency, the Dems controlled the White House, the Senate and the House — and utterly wasted all of that political capital when the stars don't align like that (having control of the White House, the Senate and the House) very often.
Indeed, last week's sad Democratic National Convention, in which much more love was shown to moderate Repugnicans than to progressive/actual Democrats, doesn't bode well for a progressive agenda being passed through should the Dems once again win the White House, the Senate and the House.
Were I to vote for Biden, to me it would mean that I supported the continuation of a center-right, Repugnican-Lite, corporate-whoring Democratic Party — when I didn't even have to, since I live in deep-blue California.
And I'm still not sure which would be the better longer-term outcome: Pussygrabber gets a second term, perhaps demonstrating amply, for once and for all, that the center-right, sellout campaigns of the likes of Billary Clinton and Hidin' Joe Biden don't work anymore, inducing the Democratic Party to, at long last, return to its progressive roots; or that Biden wins, and that this center-right, sellout bullshit under the banner of the Democratic Party continues indefinitely. "President Harris" gives me nightmares.**
In the meantime, it's hard to describe the feeling that I have whenever I get one of Bernie's e-mails or see him in the news. I still respect him — he is not dead to me, as self-serving, pseudo-progressive snake Elizabeth Warren is — but today Bernie makes me feel like a deflated convention balloon.
And I look to our younger generations to get us out of this abyss. They shouldn't have to, but it has been forced upon them to, and they just might prove to be our next greatest generation.
—
*One of the most helpful graphics that I've seen is fivethirtyeight.com's "snake chart," which you can see here. The extreme two ends of the "snake" represent the states that are going to go to Biden or to Pussygrabber without doubt. As we progress toward the center of the "snake," we see which states are less solidly blue or red, and which states appear to be the swing states. The 10 states that I've listed above as swing states are the 10 states that make up the middle area of the "snake," which is the 270 electoral votes that must be won in order to win the White House.
**If Kamala Harris were a progressive, instead of just another centrist corporate whore who takes whatever political positions she deems most likely to help her political ambitions right now, a la Billary Clinton, I'd be happy to have her as president. That she's a woman of color would be the icing on the cake. But there has to be some fucking cake.