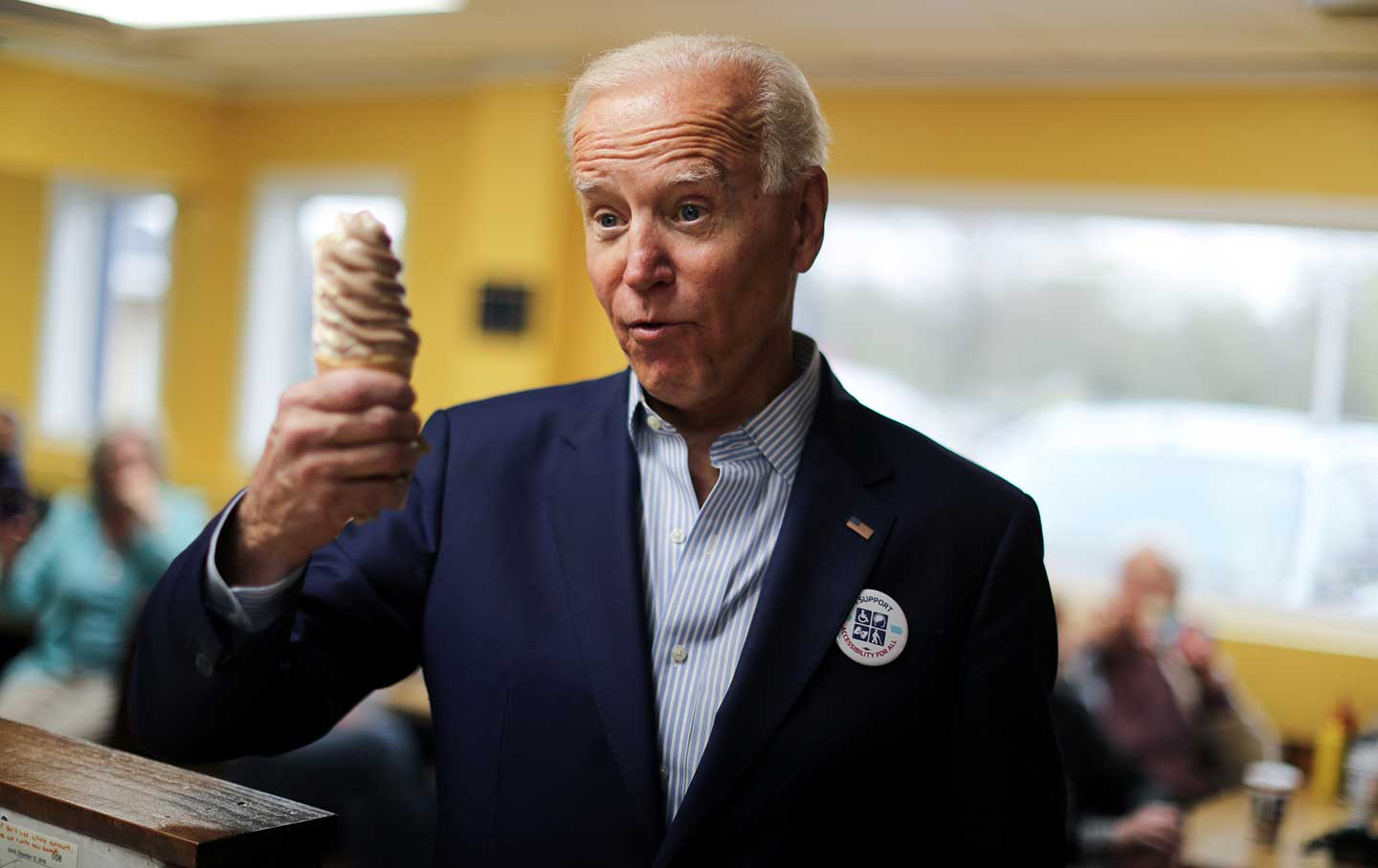 Reuters photo
Maybe "Uncle Joe" can blame his cognitive problems on a brain freeze… Anyway, Biden continues to slip in the nationwide polls, now coming in at under 30 percent on average when at one point he was over 40 percent on average. At No. 2 and No. 3 are Bernie Sanders and Elizabeth Warren, around 17 percent each, with Kamala Harris behind both of them by about 10 percentage points.
When I saw the recent Monmouth University poll that put Joe Biden at only 19 percent and Bernie Sanders and Elizabeth Warren both at 20 percent, I was a little giddy — but only for a moment.
I quickly reminded myself that it was only one poll and the only poll showing such numbers. And then I looked at the sample size: only 298 respondents, giving the poll a margin of error of a whopping plus or minus 6 percentage points.
Even the Monmouth University pollsters — after the mainstream "news" media widely announced a huge shake-up in the Democratic Party presidential race, which has been rather stagnant for some time now — released a statement declaring what we already knew: that the poll was (still is…) an "outlier." ("Outlier" is putting it quite gently…)
Still, Biden appears to be slipping gradually, and both Bernie and Warren appear to be gaining gradually.
As I type this sentence, Real Clear Politics' average of the nationwide polls puts Biden at only 28.9 percent (at one point he'd hit the low 40s), Bernie at 17.1 percent, Warren at 16.5 percent — and Kamala Harris at a distant fourth, with 7 percent, and Pete Buttigieg at fifth place with 4.6 percent.
Of course, Biden, Bernie and Warren have been in the top three for a long time now, and Harris and Buttigieg have rounded out the top five for a long time now (this New York Times headline might make you think that this is new).
But with candidates dropping like flies — including, as of late, John Hickenlooper, Jay Inslee, Seth Moulton "Who?" and the insufferable Kirsten Gillibrand — it will be interesting to see where their support goes (not that those four had much support, even combined, but still…).
Thankfully, next month there should be only one debate night (instead of two debate nights in a row, as was the case in June and July) because only 10 candidates have qualified, via fundraising and via polling, to appear in next month's debate via the Democratic National Committee's rules.
The 10 candidates whose spots on the debate stage in Houston [on September 12] are assured are (from top-to-bottom of their unofficial DNC polling average): [Joe] Biden (37 percent), Sen. Bernie Sanders of Vermont (21 percent), [Sen. Elizabeth] Warren [of Massachusetts] (20 percent), [Sen. Kamala] Harris [of California] (17 percent), South Bend [Indiana] Mayor Pete Buttigieg (7 percent), Sen. Cory Booker of New Jersey (3 percent), Sen. Amy Klobuchar of Minnesota (3 percent), entrepreneur Andrew Yang (3 percent), former HUD Secretary Julián Castro (3 percent) and former Rep. Beto O'Rourke of Texas (3 percent).
The September debate will be the first in which all five front-runners will share the stage at the same time. Might be interesting, and I'll probably watch this one; truth be told, I watched only portions of the first two debates, because with an overcrowded field, it was too much; I think I wanted those with a snowball's chance in hell to melt first before I invested my time into a long debate.
Seriously, though, to have had the likes of John Delaney, Tim Ryan and Eric Swalwell (and even Tulsi Gabbard and Andrew Yang, who both have a rather small but rather devoted cult following) on the same debate stage with the likes of Bernie Sanders and Elizabeth Warren (and even Joe Biden) was too painful for me to watch, kind of like watching a junior-high-school flag-football team play against an NFL team…