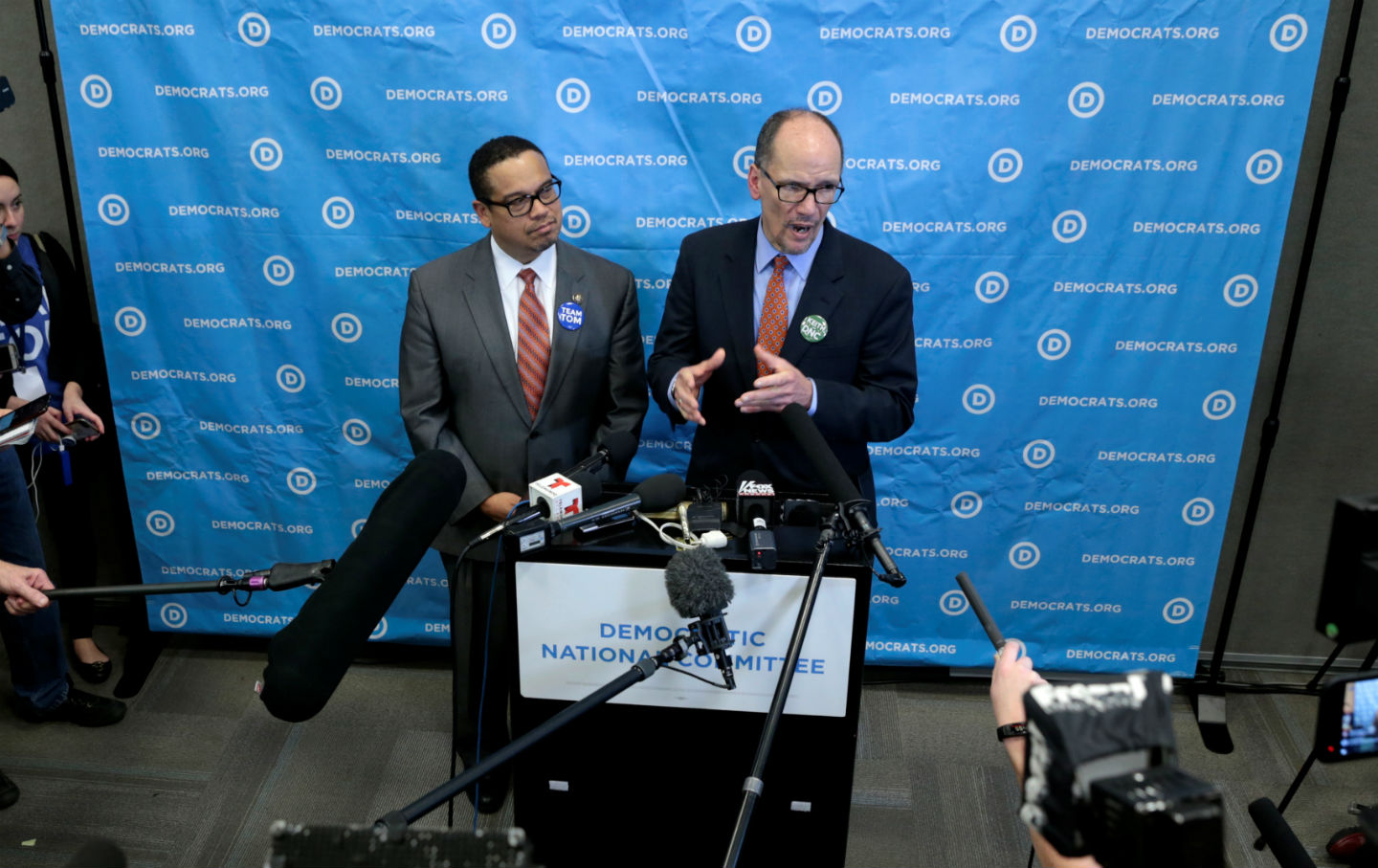 Reuters photo
Tom Perez, right, and Keith Ellison, left, speak yesterday after members of the Democratic National Committee fairly narrowly picked Perez as the party's new chair. Perez immediately asked Ellison to be his deputy, and Ellison accepted.
My pick for the new head of the Democratic National Committee was progressive U.S. Rep. Keith Ellison, but I probably more or less can live with Tom Perez, who won the contest yesterday — depending upon in which direction he goes (namely, right or left).
Ellison was endorsed by Bernie Sanders and by Elizabeth Warren, and so of course the Ellison-Perez race became a proxy for the Sanders-Warren/actually Democratic wing of the Democratic Party and the Obama-Clinton/center-right sellout wing.
The vote yesterday was close — 235 votes for Perez to 200 votes for Ellison, or 54 percent to 46 percent — so no, the election of Perez, who was President Barack Obama's labor secretary in his second term and considered to be the more establishmentarian Democrat of the two front-runners for DNC chair, was not a resounding endorsement of the outdated, corporate brand of the Democratic Party that brought us "President" Pussygrabber.
I find yesterday's vote percentages for DNC chair interesting, because in the 2016 Democratic Party presidential race, actual Democrat Bernie Sanders garnered 46 percent of the pledged delegates (delegates earned in the primary elections and caucuses) to DINO Billary Clinton's 54 percent.
That's actually rather stunning, given that Billary already had run for the Democratic Party presidential nomination in 2008 and that few even knew who democratic socialist Bernie was before he ran for president. (Actually, that Billary lost to Obama in 2008 when Obama had been on the national stage for only four years demonstrated how widely disliked she is even within her own party.)
With Perez's win yesterday, the establishmentarian, Repugnican-Lite "Democrats" apparently retain their small majority of power over the party.
The question, however, is whether they can have lasting success without the strong support of the other 46 percent of the party. Billary's loss/"loss" in November certainly suggests that they no, they can't.
That said, it's also possible — no, probable — that given the historical unpopularity of "President" Pussygrabber — he is the first president in modern history to begin his term with a net negative favorability rating* — the corporate Democrats, under Perez's lead, will claim that because Democrats picked up a bunch of seats in Congress in November 2018 (as the opposition party almost always does anyway), this is evidence that their brand of "Democratic" politics actually works when, in fact, they're just the political beneficiary of the fact that now we have the most-hated new president/"president" of modernity and of the fact that the opposition party almost always picks up seats in Congress in the midterm after a new president/"president" is elected/"elected."
But let me find some silver lining here: Perez, who had been considered for Billary's running mate last year and who had the backing of Team Obama, including Joe Biden, is the first Latino head of the DNC.
It's a victory for Latinos, who increasingly are a vital part of the Democratic coalition and who deserve the increased political representation, perhaps especially now, while they are under attack by the fascist, unelected, illegitimate, treasonous Pussygrabber regime.
But let me find the dark cloud in the silver lining: Unfortunately, even as labor secretary and even after Billary Clinton flip-flopped on it, Perez still dutifully supported the now-dead Trans-Pacific Partnership, which suggests that he's not as far to the left and as much on the side of the poor and the working class as he should be.
But another silver lining: Before he became Obama's secretary of labor, Perez was, during Obama's first term, the assistant U.S. attorney general for the Department of Justice's Civil Rights Division.
That's a plus, as while the Democratic Party must focus more on the working class and the poor and the insane income inequality that has plagued the nation for decades — Billary's unpardonable loss of the once-reliably-Democratic Rust-Belt states makes that crystal clear — and must disentangle itself from its and our corporate overlords, it must also keep a strong focus on defending the civil rights of everyone, especially now that our civil rights are under siege by the Pussygrabber regime.
Hopefully, Tom Perez is humbled by the fact that 46 percent of the members of the DNC voted for Keith Ellison** and the politics that he represents. We haven't seen much humility in the members of the Obama-Clinton coalition thus far — even after Billary's defeat in November.
Hopefully, Perez's immediately having made Ellison his deputy chair was more than just political optics; hopefully, it means that Perez knows fully well that the Democratic Party can't keep ignoring the 46 percent who want it to go in a different direction than it has been for several decades now.
P.S. "President" Pussygrabber characteristically tweeted:
The race for DNC Chairman was, of course, totally "rigged." Bernie's guy, like Bernie himself, never had a chance. Clinton demanded Perez!
Why Pussygrabber used quotation marks around "rigged" I'm not sure; I suspect that like much, much, much else that he doesn't understand, he doesn't understand the correct usage of quotation marks.
It hasn't been in dispute that the Clinton camp backed Perez, but there is to my knowledge no evidence of the vote for DNC chair having been "rigged." I have read and I surmise that plenty of political pressure was applied on the voting members of the DNC to support Perez or Ellison, but "rigged"? I'd have to see evidence of that to give it any credence.
What's the closest to the truth, methinks, is that the establishmentarians die hard. They hold onto their power for as long as they humanly possibly can. Unseating them takes a concerted, sustained effort — and it takes time.
But it's hilarious when Pussygrabber pretends to care about Bernie Sanders being mistreated by the Democratic Party establishment, as though corrupt billionaire Pussygrabber truly cares about a democratic socialist.
And, of course, when he isn't claiming to care about Bernie's treatment by the Democratic Party establishment, Pussygrabber is referring to him as "crazy Bernie."
Yeah.
Pussygrabber apparently still thinks that he's actually going to pick up the support of the Berners. He's not. Anyone who remotely understands what Bernie Sanders stands for never could give the likes of Pussygrabber a shred of support.
—
*"President" Pussygrabber's favorability rating has been stuck around only 40 percent — with more than 50 percent of Americans disfavoring him — for some time now. See here and here.
**To be fair and balanced, Ellison's only potential weakness for DNC chair, that I can think of, is that he is a sitting U.S. representative. The last chair of the DNC, Debbie Wasserman Schultz, was and still is a sitting U.S. representative, and as chair of the DNC she did a shit job (her resignation in disgrace in July was overdue and was a relief).
Not to say that Ellison couldn't have handled the two jobs at the same time, but at least Perez will be able to focus solely on being DNC chair and not have to run for re-election every two years.
Some would say that Ellison's having been the first Muslim elected to the U.S. House of Representatives is a mark against him, especially in the current political climate of bullshit hysteria that the unelected Pussygrabber regime is trying to stoke in typical fascist style, but even as an atheist I have no problem with Ellison being a Muslim. He has shown no indication of trying to shove his own religious beliefs down others' throats, and so he's fine by me.
P.S. Since I wrote the above paragraphs, I have read that Ellison had pledged to resign his seat from the House had he won the DNC chairmanship. (This indeed quelled the criticism from the Clinton-Obama camp that he wouldn't be able to do both jobs, even though they never made that criticism of Wasserman Schultz, of course.)
I have not read that Ellison plans to resign his House seat to be the deputy chair, and I doubt that he will.