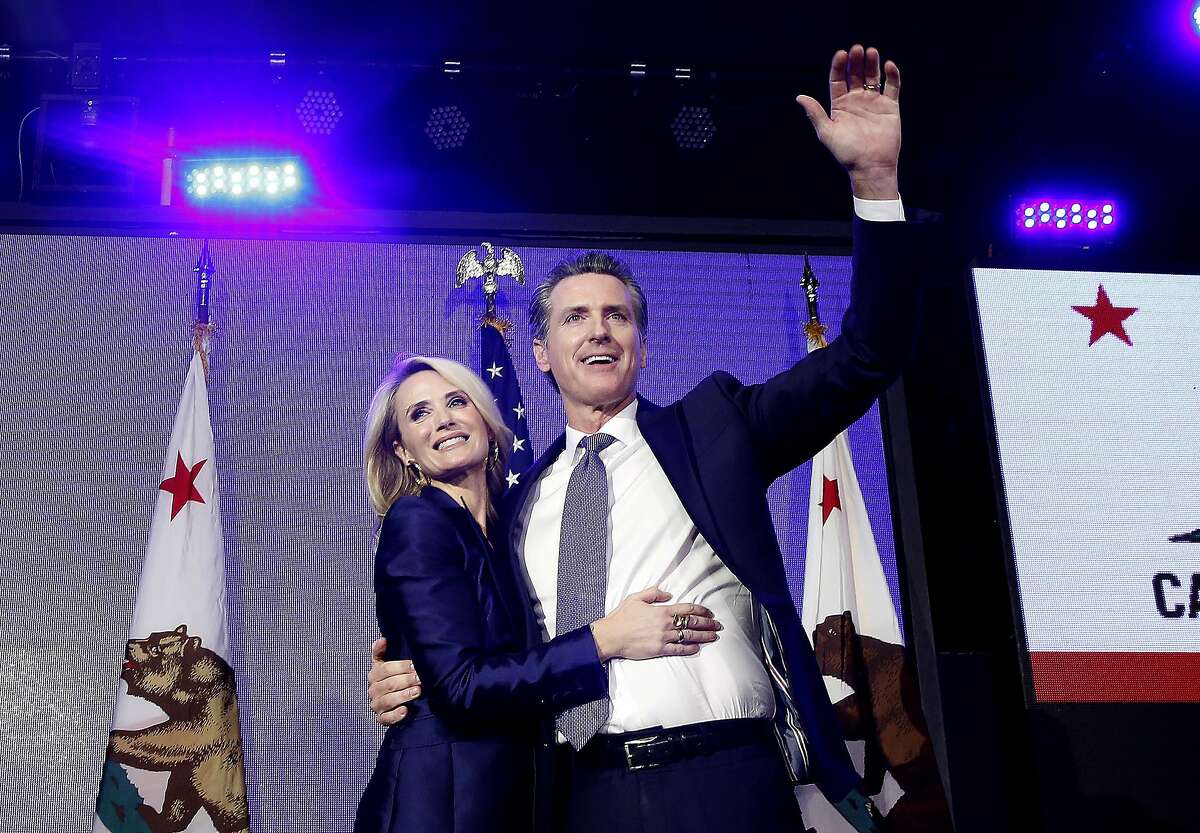 Associated Press news photo
Gavin Newsom and his wife celebrate his crushing 62-percent-to-38-percent victory in the California gubernatorial election of November 2018. This celebratory scene most likely will be repeated the night of September 14, when the majority of the state's voters are expected to affirm that they want to keep Newsom, who still is in his first term, in office.
With the bullshit gubernatorial recall Repugnican-vanity-project do-over election just eight days away, California Gov. Gavin Newsom very much appears to not have to worry about having to pack up his office anytime soon.
The latest Public Policy Institute of California poll has Newsom keeping his job handily, with 58 percent of likely California voters saying they want to keep Newsom in his job, and only 39 percent of them saying they want to boot him.
And since vote-by-mail ballots under state law automatically were sent to more than 22 million registered voters beginning August 16, the ballot return rate of more than 5.7 million ballots thus far has been more than 2:1 Democratic:Repugnican — which is in line with the voter-registration composition of California, which is about 2:1 Democratic:Repugnican.
Obviously, Democrats are voting, are not sitting out this stupid, colossal-waste-of-taxpayers'-money election (as the pundits for a while had predicted very well might be the case), perhaps especially since they've all been mailed a ballot. (Repugnicans hate voting by mail only because it makes it easier for the "wrong" people to vote, of course. If you want to vote for a Democrat, at the minimum, you should have to crawl for at least a mile under razor wire among shards of glass and fire ants, you see — while being shot at by a firing squad.)
Further, according to the aforementioned PPIC poll, a higher percentage of even Repugnicans are voting to keep Newsom than the percentage of Democrats who are voting to boot him — only 7 percent of the Democrats polled by the PPIC said they'd cross over to vote to oust Newsom, whereas 17 percent of the Repugnicans said they'd cross over to vote to keep him.
(Independent/"no-party-preference" voters were almost evenly split, with 49 percent saying they'd vote to retain Newsom and 44 percent saying they'd vote to eject him, so it looks like Newsom probably will get some net help from the state's independents, who overall lean toward the Democrats.)
While I don't see the final, official vote tally putting Newsom at the PPIC poll's 58 percent, which is only four percentage points away from what he garnered in November 2018 (a whopping 62 percent of the vote), I expect him to keep his job with probably around 54 percent, maybe around 56 percent of the vote.
Indeed, fivethirtyeight.com's average of recent polls has Newsom winning the September 14 do-over election with 53 percent, which I surmise is close to what the final election result will be.
Still, all that Newsom has to get is a simple majority and he keeps his job, and those who are putting their money where their mouths are at PredictIt.org right now are betting 86 cents that Newsom will keep his job — to 14 cents that he'll lose it.
Still, fully expect the Repugnicans, a bunch of fucking zombie-sheep if ever there ever were any, to claim, way, way beyond ludicrously, that no, right-wing nut job Larry Elder actually won the recall election, despite the fact that California's voter registration favors Democrats over Repugnicans by about two to fucking one, and despite the fact that Elder's cray-cray political positions — such as (not in any certain order) his opposition even to any minimum wage at all, his opposition to the government making public-health rules to combat the ongoing COVID-19 pandemic (even though the pandemic at this point is killing mostly anti-vax wingnuts, a.k.a. the Repugnican Party's base), his desire to turn our public schools into private profiteering centers, and his (timely…) belief that the states should be able to determine whether a not a woman has the right to choose — are wildly out of step with the political positions of the crystal-clear majority of the state's voters.
These traitors don't flinch about blatantly lying about "election fraud" and "stolen elections" because they're perfectly fine with rule by the minority, which, of course, is not democracy, but which is tyranny — as we also see primarily with their continued steadfast support for former fascist "President" Pussygrabber, who lost the popular vote not once, but twice (by almost 3 million votes in 2016 and by just more than 7 million votes in 2020), yet these mouth-breathing, knuckle-dragging, MAGA-cap-wearing, COVID-19-vaccine-refusing fascist traitors still talk insanely about Pussygrabber's pending "reinstatement" as "president" — democracy (those 7 million more votes for Joe Biden than for Pussygrabber) be damned.
It is vital that we sane, actually patriotic Americans — you know, actually patriotic because we actually want as many eligible voters to vote as possible, and because we believe in honoring election results instead of treasonously lying pathologically about "election fraud" when we cannot win fairly and squarely at the ballot box — hold the line.
There are millions of rabid traitors out there who are perfectly fine with installing their fascist "leaders" who have only minority support, like Pussygrabber and Larry Elder — no matter how the majority of us vote.
P.S. To be sure, a huge chunk of those voting to keep Newsom in office aren't totally in love with him, but really, really don't want a Repugnican as governor. (This certainly has been my case.)
This political dynamic hasn't changed, I surmise, since the 2020 presidential election, in which, I surmise, hatred for "President" Pussygrabber was stronger than was the love for Joe Biden, but nonetheless, that hatred for the unelected, fascist Pussygrabber — who always was more like a lame-ass mob boss than anything like a United States president — was enough to give Biden the win.
Similarly, I surmise that the majority of those who are voting to keep Newsom are only lukewarm on him — but nonetheless strongly prefer him to the frontrunner on the other side, Repugnican-fascist Larry Elder.
Further, while the Repugnicans of course want to pin all of California's problems on Newsom, most of the state's voters aren't nearly as fucktarded as is the typical Repugnican voter, and they realize that no one individual in the nation's most populous state is primarily responsible for the state's problems, and that much (if not most) is out of the control of the state's governor, whoever that is.