So there is a viral video of a probable white-trash woman, who is (pretty much by definition) quite ignorant and very probably mentally ill, crying over the "loss" of "President" Pussygrabber and the inauguration of Joe Biden. (Screen grabs are above.)
"President Trump, if you see this," she begins her rather pathetic video, giving us insight into her intelligence and her mental health right off the bat, "please save us!"
She goes on: "I don't even see [our?] American flag anymore; Biden is talking with some kind of crazy flag! This is America! This is our land! Please, President Trump, please, please, I hope you have a plan!"
She then pivots to a (presumably…) higher authority, although the lines between God and Jesus and Pussygrabber among Pussygrabber's biggest fanatics seem to be blurred to even nonexistent: "God, please save us, save us from the devil, please!"
She then says something that sounds to me something like, "Y'all are gonna have a panic attack," but I'm not sure on that. ("Panic attack" is clearly audible, but I'm not sure what she was trying to say with that sentence. In the video, it's pretty clear that she's the one having the panic attack.)
She goes on: "This is our country! Our country! This is awful! God, please save us, please!"
Fucking yikes!
Look, I abhor the wannabe fascist dictator Pussygrabber — when I say that he deserves the death penalty for his repeated acts of treason against the nation, I mean it — and I'm loving the fact that the democracy-killing perpetual chaos that he caused the nation for years is now, for nothing other than the bottomless need and greed of his own fucking colossal ego, is (mostly) over, and it blows my mind that anyone should believe that that felonious, treasonous egomaniacal piece of shit actually cares about the common American (Pussygrabber cares only about himself, it's abundantly clear) and actually is Godly, but nonetheless, I feel sorry for the wailing woman in the video.
Don't get me wrong; people who are as crazy as she is are people I don't associate with, as people who are as crazy as she is often present a danger to others. I mean, when you see everyday events through the sick and twisted lens of a big-ass battle between "God" and "the devil" (when neither supernatural being exists and when we live in the age of astounding scientific advances that help us to understand our planet, remarkable medical breakthroughs that improve our quality of life and extend our lives, and even deep-space exploration that grants us an increasing understanding of even the cosmos) then everyday experiences and events take on an existential threat for you.
Clearly the woman is experiencing pain and suffering, so it's difficult for me to laugh at her and to feel schadenfreude.
I feel schadenfreude for those who have had power and abused it and so who consequently have fallen from power and have fallen from grace. Former "President" Pussygrabber is an excellent example of that. Pussygrabber has harmed so many people — including the woman in the video — that I could give a rat's fucking ass as to anything that might happen to him.
Don't get me wrong; I'm not blaming Pussygrabber for the ignorance and very apparent mental illness of the woman in the video. Her ignorance and mental illness were pre-existing conditions, I'm sure.
But with Pussygrabber's constant lying — he does nothing but fucking lie — and with his constantly playing, for only personal political gain, upon the crazy beliefs of crazy people throughout the United States — he fully understands the concept of confirmation bias — he has exacerbated the pain and suffering of millions who have low intelligence and/or poor mental health.
Pussygrabber didn't have to do this; he chose to abuse his power toward his own selfish ends, and, being the fucking sociopath that he is, the damage that he has caused to others (including, of course, the more than 412,000 who have died in the novel coronavirus pandemic, which he only ever has viewed through the lens of how it might help or harm his own personal political fortune), very apparently has not bothered him a bit.
I don't think that the crying crazy woman in the video deserves nearly as much of our ridicule as she deserves our sympathy, as helpless as she appears to be.
No, we shouldn't excuse her craziness, and no, we never should play into it; we must never allow the inmates to run the insane asylum, as we sure the fuck got a taste of on January 6.
But let's let the crazy crying woman in the video inspire us to work a lot more on mental health and on our educational system* — to hopefully prevent more of these pathetic viral videos in the future.
—
*Crazy me, I believe that our educational system's No. 1 goal should be to help the development of reasonably content, reasonably mentally healthy, reasonably intelligent and informed human beings. Education should banish ignorance, which in itself resolves a shitload of unnecessary pain and suffering. (No, the No. 1 goal of education should not be to churn out brainwashed worker-bee wage slaves for the titans of capitalism.)
Education also should broaden one's worldview to the point where one would not even be able to utter the words, "This is our country!"
"This" is not "our" country. This is not even a "country." This, what we call the United States, is but a portion of planet Earth, where we ignorant human beings create artificial borders and then treat them as though they were naturally occurring borders and not the products of our ignorance, fear, greed, egotism and tribalism.
P.S. A snarky Twitter user apparently posted this in response to what Joe Biden's "crazy flag" might look like: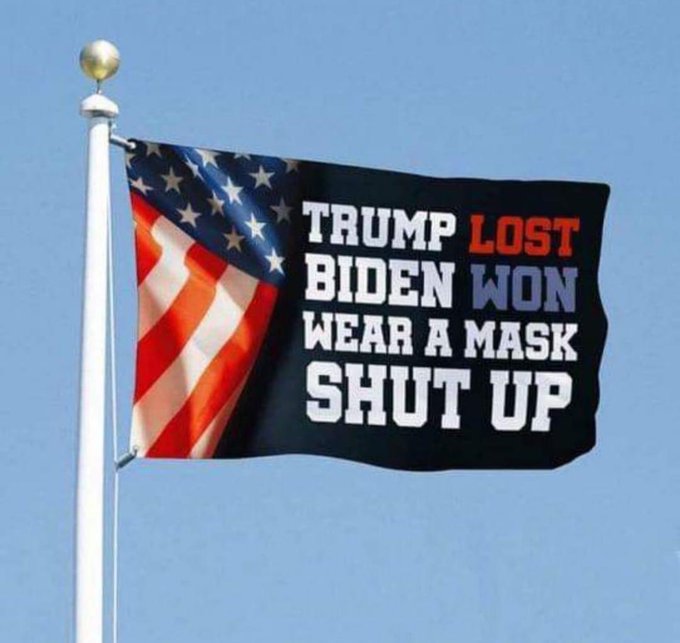 Yup. Hee.