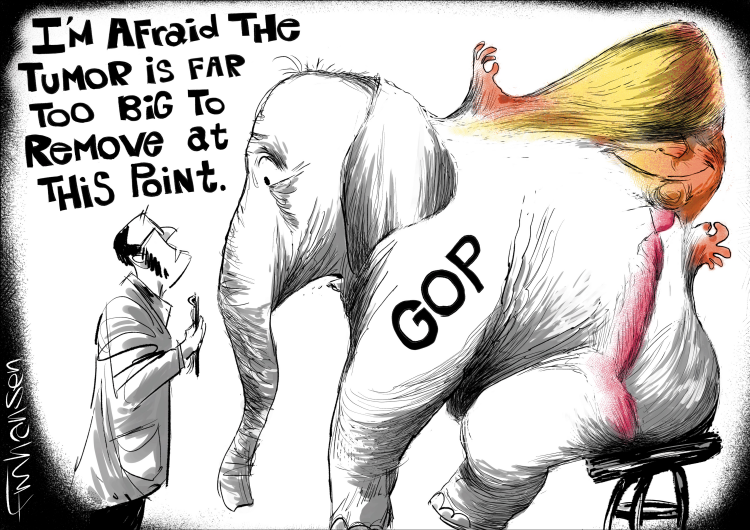 The "president" is a yuuuge tumor not only on the Repugnican Party, and not only on the nation as a whole, but even on the entire planet.
What a great early Christmas present: the impeachment of "President" Pussygrabber.
I'll keep this short and simple and (as always) sweet, since this doesn't need much elaboration:
The "president" is a mob boss. Always has been, always will be. We knew this before he was "elected" — I use quotation marks because he lost the popular vote by almost 3 million votes. (He never was legitimate — we don't have a democracy if every vote does not count — and the Electoral College must be abolished and we must elect our presidents by the popular vote only.)
When Robert Mueller pussed out and gave the "president" only a slap on the wrist in his final report on Russia's meddling in the 2016 presidential election to help Pussygrabber, Pussygrabber was so emboldened that he immediately set out to steal the 2020 presidential election as well.
The vast majority of those in the U.S. House of Representatives coming to Pussygrabber's defense have been bat-shit-crazy right-wing white males, of course. (The usual suspects, indeed.) Watching these weak, pathetic, treasonous suck-ups fall over each other to defend Der Fuhrer the most for the past several weeks has been instructive, and I didn't think that I needed any more instruction. (I didn't, but I sure got it.)
Of course, it will be mostly the same demographic in the U.S. Senate who will save Pussygrabber's ass — bat-shit-crazy right-wing white males drunk on their stupid-white-male privilege.
"President" Pussygrabber is a stage-IX malignant tumor that should have been removed long, long ago, but thanks to the tyrant-loving traitors in the U.S. Senate, he will remain in place until we, the people, finally excise him in November 2020.
And the history books (except perhaps those used in Texas and the other red states) will say of "President" Pussygrabber that he did not win the popular vote but was saved by the backasswards Electoral College, that the House of Representatives impeached him but that the Repugnican-controlled Senate refused to remove him from office, and that he was another sad-sack one-term "president" after having been beaten soundly in the presidential election of 2020.