AFP photo
A woman takes a hit at an effigial piñata of Pussygrabber during a protest in Mexico City in October 2016, before our long national nightmare officially began in January 2017.
For better or for worse — now, for worse — the United States presidency was built to be durable. The president, whether actually elected by the majority of the voters or not (tellingly, neither of our last two Repugnican "presidents" were), gets a fairly long term of four years, plenty of time with which to do plenty of damage, and it's incredibly difficult to remove a sitting president.
Unless the president obviously, unarguably is incapacitated, such as through coma or death, he gets to remain in office, and sure, you can impeach him with a simple majority vote of the U.S. House of Representatives, but to actually remove him from office then would take at least 67 votes in the U.S. Senate. That's never happened in our nation's history. (I generally am against super-majorities, especially super-majorities of two-thirds. If we must have a super-majority, to me it shouldn't have to be higher than 60 percent.*)
When we have a shitty president, our options aren't many. Ensuring that his party doesn't control both houses of Congress helps, and I am confident that the Democrats will take back the House in November. (Fivethirtyeight.com right now gives them a 78.2 percent chance of doing so.) That will be yet another significant blow to the Pussygrabber piñata, which has taken many hits so far.
Not that Pussygrabber would flinch all that much (at least publicly) after losing the House; he's never understood or respected the U.S. Constitution, so he'll still try to be a dictator. He'll try; he'll be slapped down by the checks and balances that the nation's founders wisely and presciently built into our system of governance.
But, as I have noted before, Pussygrabber does make the cockroach jealous in terms of his ability to survive what should have killed him.
The pussy-grabbing tape publicly revealed in October 2016, for fuck's sake, should have ended him.
And it's been nothing but a parade of books about the Pussygrabber White House, first Michael Wolff's best-selling Fire and Fury, then White House insider Omarosa Manigalt Newman's Unhinged (which, whatever we think of her, still sits at No. 60 on Amazon.com's top-100 selling books list as I type this sentence), and now, Bob Woodward's Fear: Trump in the White House — which because of pre-orders right now is No. 1 on Amazon.com's best-seller list (it officially come outs on Tuesday, which is September 11…).
When people independently are reporting the same things, um, yeah…
There have been plenty of other whacks on the Pussygrabber piñata, of course, including the indictments and convictions and guilty pleas of Pussygrabber associates, most notably of former Pussygrabber "presidential" campaign chairman Paul Manafort and former Pussygrabber personal attorney Michael Cohen (which didn't happen even a full month ago), and plenty of wholly self-inflicted hits, such as Pussygrabber's disastrous meeting with Russian tyrant Vladimir Putin in Finland in July, during which he surreally casually treasonously threw the United States of America under the bus.
Old-school Repugnican John McCain got in a postmortem dig by barring Pussygrabber from attending his recent funeral, which was attended by Barack Obama and George W. Bush, as well as by Joe Biden and former U.S. Sens. Russ Feingold and Gary Hart and current U.S. Sen. Sheldon Whitehouse, all Democrats.
The New York Times last week released that interesting, anonymously-penned op-ed titled "I Am Part of the Resistance Inside the Trump Administration" and tag-lined "I work for the president but like-minded colleagues and I have vowed to thwart parts of his agenda and his worst inclinations."
The op-ed didn't tell us much that we didn't already know, wasn't much new, except that it purportedly was written by someone still working within the Pussygrabber regime (my best guess is that it was lodestar-loving Mike Pence, who would personally benefit immediately upon Pussygrabber's exit), and of course Pussygrabber made the situation even worse by tweeting:
Does the so-called "Senior Administration Official" really exist, or is it just the Failing New York Times with another phony source? If the GUTLESS anonymous person does indeed exist, the Times must, for National Security purposes, turn him/her over to government at once!
Wow. Let's unpack that: Saying or reporting anything that "President" Pussygrabber doesn't want you to is tantamount to threatening "National Security." Wow. No First-Amendment or whistle-blowing protections for us peasants where it comes to Mad King George!
To equate yourself with the nation (and your ego with the nation's security) itself is beyond insane. Pussygrabber is not the United States of America; he is an aberration and an abomination. We know this now; indeed, we have known this for some time now, and we don't need to wait for the historians inevitably to record his "presidency" as such.
And The New York Times is not "failing." In fact, this never has been true during Pussygrabber's "presidency," and Pussygrabber will lie pathologically about anything, will spew even lies that easily are thoroughly debunked.
Forbes reported back in July 2017 of the Times that "the paper enjoys 2.3 million paid digital subscriptions, up 63.4 percent from a year earlier. Its stock is currently trading at a nine-year high, hovering around $20 per share and giving the company a market capitalization of about $3.2 billion."**
Forbes added: "Like most traditional media organizations, the Times has weathered setbacks thank to falling print subscriptions and ad revenues. But Trump's presidency appears to have breathed new life into the organization. Since the election, the Times has made itself a must-read, trading political scoops with The Washington Post on an almost daily basis."
The Times reported 2.9 million online subscriptions last month and published this graphic: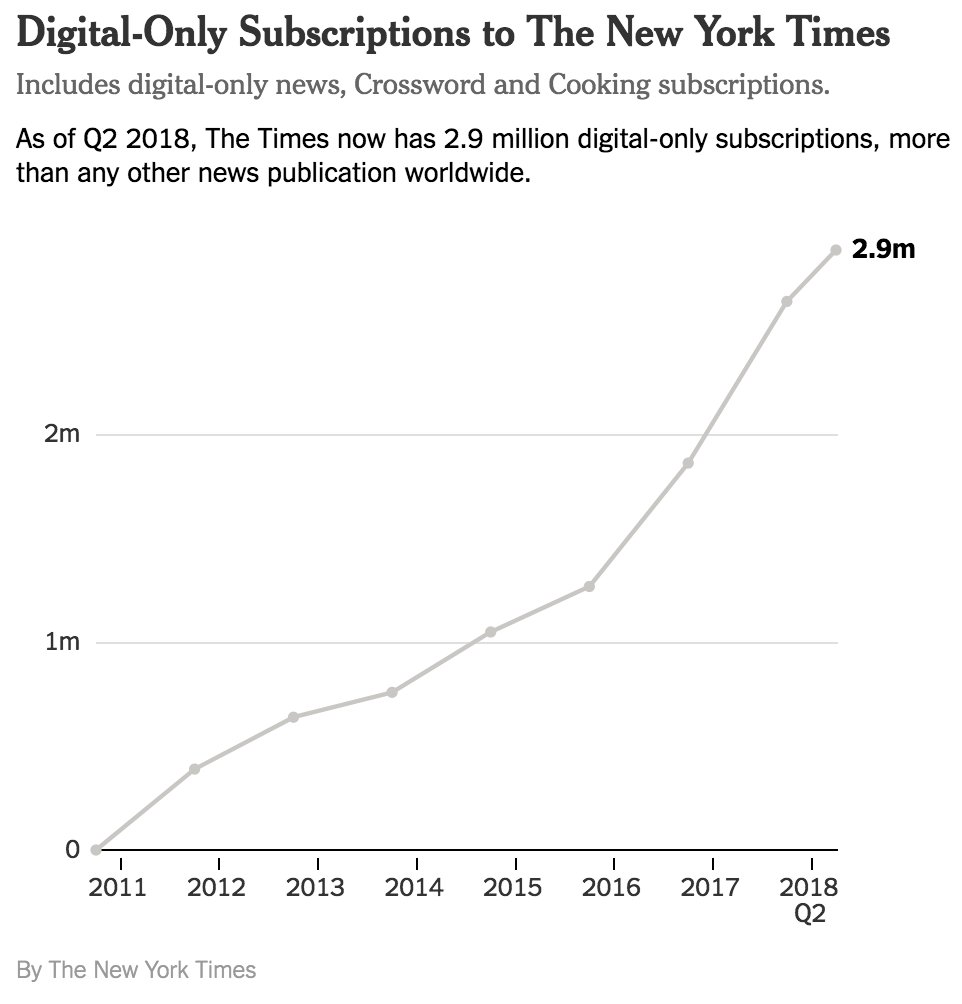 Indeed, I renewed my online subscription to the Times after years of dormancy because I value the Times' and The Washington Post's fairly relentless coverage of "our" illegitimate, dangerous "president" (I subscribe to both online, and yes, their current success has a lot to do with the unelected maniac in the Oval Office).
But back to that "presidential" tweet: Most chilling about it, of course, is Pussygrabber's dictatorial assertion that "the Times must, for National Security purposes, turn him/her [the writer of the anonymous op-ed] over to government at once!"
Who the fuck does Pussygrabber think he is — Vladimir Putin? (That was [mostly] rhetorical, but feel free to answer it literally.) Although Pussygrabber has done his best to be a human wrecking ball of our republic, in the end, although sometimes slow, such as the Mueller investigation, in the United States of America the rule of law still applies.***
The Times legally does not have to divulge its sources, and the specious "National Security" argument won't work. Further, at least one federal former prosecutor says that the author of the anonymous op-ed has broken no law at all, either by having provided the piece for publication or by having admitted to any illegal activity within the piece itself.
Another whack to the Pussygrabber piñata is planned to come later this month, when Michael Moore releases his new film on the unelected Pussygrabber regime, "Fahrenheit 11/9," a twist on the title of his 2004 film about the unelected Bush regime, "Fahrenheit 9/11," which remains the highest-grossing documentary of all time.
Here is the poster for "Fahrenheit 11/9":
Pussygrabber's "win" of the White House was announced on November 9, 2016, and thus "Fahrenheit 11/9."
True, "Fahrenheit 9/11" was meant to help to deny "President" Bush a second term in the 2004 presidential election and failed to do so, but I'll take just about any new movie by Moore, and, again, it should be yet another whack on the Pussygrabber  piñata, followed by the Repugnicans' loss of the U.S. House of Representatives later this fall.
And, of course, Pussygrabber's approval ratings remain stubbornly stuck around the low 40s, which not only doesn't bode well for the mid-term elections in November — widely considered to be a referendum on Pussygrabber — but doesn't bode well for his "re"-"election."
Pussygrabber's average approval ratings have been historically low, which is like a constant hitting of the Pussygrabber piñata, weakening it even further and further, if only slowly.
Will there be a final, spectacular, perhaps inevitable blow to the Pussygrabber piñata? And who will strike it? Robert Mueller at any time? The Democratic-controlled House finding its spine and impeaching him? Bernie Sanders beating him in November 2020?
We'll see, but in the meantime, this will, methinks, remain a fairly slow-moving train wreck.
We'll probably finally see that piñata spew its contents all over the ground one day, but by the time that comes, we might be too exhausted from our long national nightmare to be able to derive all that much pleasure from it.
—
*On that note, the threshold for a new U.S. Supreme Court "justice" to be put on the bench used to be a vote of 60 or more in the U.S. Senate, until Yertle McConnell changed the Senate rules in 2017 to require only a simple-majority vote for Supreme Court "justices" in order to get Pussygrabber's picks seated on the court.
The only way for loser Pussygrabber to "win," once again, was to cheat.
**Forbes does note that maybe Pussygrabber, who is no wordsmith, means that The New York Times is "failing" in its coverage of him and his "presidency," but most often when Pussygrabber criticizes a company, his criticism is that it is not doing well financially, even though he's had six bankruptcies.
***It is because there are so many competing different interests within the United States, I surmise, that no one group of people can have power indefinitely, as it is the case in the thugocracy of Russia, which Pussygrabber wants to replicate here in the U.S.
(In March, Pussygrabber remarked that it's great that China now has a president for life, and that maybe the U.S. will have that too someday. Maybe Pussygrabber was joking, but "jokes" like that aren't funny. It wasn't funny when George W. Bush "quipped" in December 2000, "If this were a dictatorship, it'd be a heck of a lot easier, just so long as I'm the dictator.")