Talk-radio wingnut Laura Ingraham briefly makes what looks like a Nazi salute to Der Fuhrer Donald Trump during the Repugnican National Convention's third night. It's so fitting. (On that note, why are so many Repugnican Tea Party women blonde or bleach blonde? [Oh, yeah — that Aryan thing…]) 
What a spectacular shit show the Repugnican National Convention has been. Where to even begin? With Barbie Trump's plagiarized-not-plagiarized-OK-plagiarized speech? (Hey, at least it inspired this cute Photoshop job: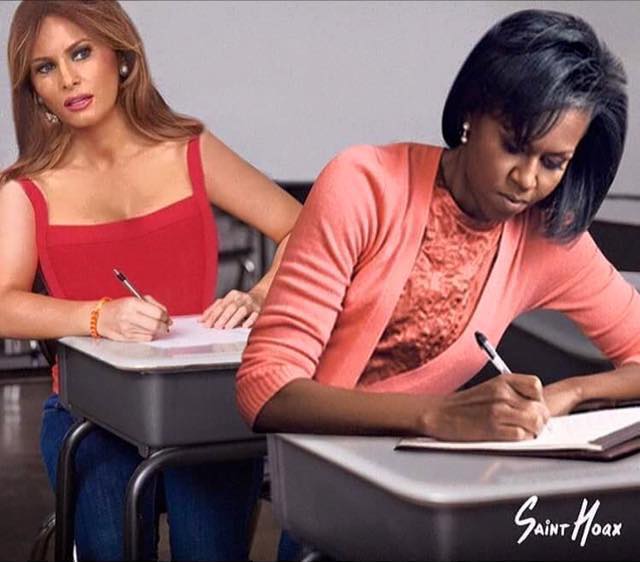 )
Should we begin with Ted Cruz slogging through his you-should-have-made-me-the-nominee speech even though he was being roundly booed? Or with the mother of one of four Benghazi victims grotesquely being worshiped while Cindy Sheehan, the mother of one of more than 4,000 victims of the illegal, immoral, unjust and unprovoked Vietraq War, was reviled by the same bunch of wingnuts because she isn't a wingnut herself? With the surreal apparent proof that Chachi still lives? (But where is Joanie?) The surreal fact that former hottie Antonio Sabato Jr.'s being an abject wingnut is a total boner shrinker? Ben Carson stating that Billary Clinton is in league with Lucifer? (Um, even if he did exist, Lucifer wouldn't associate with her. And for Crazy Carson, a physician, for fuck's sake, even that statement wasn't surreal.) How about wingnutty talk-radio host Laura Ingraham's apparent brief Nazi salute to Der Fuhrer Trump?
Again: Spectacular. Sh-t show.
More frightening than the Repugnican National Convention, however, could be Election Day.
Fivethirtyeight.com, which just recently gave Trump only about a 20 percent chance of winning the White House to Billary's 80 percent chance, now puts it at 39 percent Trump to 61 percent Billary. Prediction market PredictIt.org is in the same ballpark, with Trump at 35 cents to Billary at 66 cents. We're somewhere around 60-40, folks, when not long ago it was 80-20.
The Huffington Post's average of polls right now has Billary at only 2.8 percent ahead of Trump nationwide, and Real Clear Politics' average of polls similarly right now has Billary at only 2.7 percent ahead of Trump nationwide. (RCP's four-way race – Billary, Trump, Green Party candidate Jill Stein and Libertarian Party candidate Gary Johnson – gives Billary a 3.6 percent lead over Trump.)
Michael Moore recently declared on Bill Maher's show that "We've [we Democrats and Democratic leaners have] been sitting in our bubble, having a good laugh at this total … shit show [that is the Repugnican National Convention], but the truth is that this plays to a lot of people that [Trump] has to win to become the next president…. I'm sorry to be the buzz kill here so early on, but I think Trump is gonna win."
Chauncey DeVega is more optimistic. He writes: "…Donald Trump will not defeat Hillary Clinton in the 2016 presidential election. He lacks the infrastructure and resources to run a proper presidential campaign. Trump is also extremely unpopular among huge swaths of the American public.
"However, the presidential race will be much closer than many pundits and other experts are predicting. …"
I agree that it's likely to be a tight race. The Repugnican Tea Party traitors really, really want "their" country back after eight years of Kenyan Muslim rule, you see. They will, I suspect, be more motivated by their hatred of the left (and of Billary, who, ironically, only barely is to the left) and their love of fascism than the rest of us will be excited to vote for Billary or even motivated to vote for her out of our hatred and/or fear of Trump.
The Repugnican Tea Party traitors will, I suspect, act the way that the Bushies acted in 2000 when they stole the White House: After eight years of Bill Clinton, they wanted the White House back so badly that it mattered to them not that Al Gore had won the presidential election, and they threw the longer, louder tantrum, so the then-right-wing U.S. Supreme Court threw the election to them.
The rest of us didn't fight the 2000 theft of the White House, certainly not enough to prevent it from happening; what has changed enough for us to believe that we would fight such a theft if it happened again this presidential election?
So the closer the presidential election is, the more likely it is that the Repugnican Tea Party traitors will be able to steal the White House again, like they did 16 years ago, so I don't get DeVega's optimism.
And DeVega acts as though "the infrastructure and resources to run a proper presidential campaign" matter as much as they used to. These aren't normal times; we can argue that a presidential candidate still must have infrastructure and resources, I suppose, but really, what the fuck is "a proper presidential campaign" anymore? Where the fuck is propriety today?
I mean, in my lifetime of almost five decades, no U.S. president had not first been at least vice president, a U.S. senator or the governor of a state before becoming president. You have to go all the way back to President Dwight D. Eisenhower, who was in the White House from 1953 through 1961, before you can go back to a president who wasn't previously vice president, a senator or a governor. Eisenhower, as many presidents before him, came from a military background.
Donald Trump has none of these things on his resume. He is a fucking flim-flam man.
Indeed, the author of The Art of the Deal, the 1987 "(auto)biography" that created the myth of The Donald, now says that he wrote "every word" of the book, although Trump claims that he wrote it, and he says that he regrets that he wrote the book, now that Trump is a contender for the White House.
"I helped to paint Trump as a vastly more appealing human being than he actually is. And I have no pride about that. … I did it for the money. It's certainly weighed on me over the years," the author of the "(auto)biography," Tony Schwartz, recently told NPR. "Now, since he's … in a position to potentially become president, it makes my decision back then look very different than it did at the time."
Among other things, Schwartz told NPR that "One of the chief things I'm concerned about is the limits of [Trump's] attention span, which are as severe as any person I think I've ever met." NPR also reports:
… The idea of a president in an "incredibly complex and threatening world who can't pay attention is itself frightening," Schwartz says.
Add to that the fact that Trump is so easily provoked, that what Schwartz calls Trump's insecurity "makes him incredibly reactive whenever he feels threatened, which is very, very often." …
While it's clear to those of us who are sane that Donald Fucking Trump is a fucking fraud, a fucking facade, and is wholly unfit for the White House, it certainly isn't clear to his fan club of fellow fascists who are looking for their fuhrer — or, more frightening, perhaps many if not even most of them actually have some clue that Trump is a fucking fraud but they just don't care.
And while DeVega is correct that Trump is "extremely unpopular among huge swaths of the American public," so is Billary Clinton; while Trump's unfavorability rating right now is about 60 percent among all Americans, Billary isn't far behind — her unfavorability rating is about 56 percent.
I lean more toward agreeing with Michael Moore than I do with Chauncey DeVega – Moore is right about the anti-Trump bubble, and DeVega seems to be writing from within that bubble (albeit close to its inner surface) – but we'll see.
At this point I see the Billary-Trump race as a toss-up, and again, in toss-ups the Repugnican Tea Party traitors usually get what they want, because they shamelessly act like Orcs to get it.
One thing I am sure of is that the Billarybots who assure us that Billary has it in the bag are lying, are deluded, or are deluded liars.
They continue to ignore how widely despised she is, how uninspiring she is (even to most of those who say that they support her), and how weak a candidate she actually is, and they continue to ignore the polls, such as the polls that consistently showed Bernie Sanders beating Trump by double digits while Billary only rarely could reach double digits against Trump and now fares only in the frighteningly low single digits against Trump.
In the minds and the words of the Billarybots, it all will work out OK because how awful Donald Trump is is just so self-evident to the majority of those who will vote in November.
Except that that isn't the case at all, which the polls continue to prove.