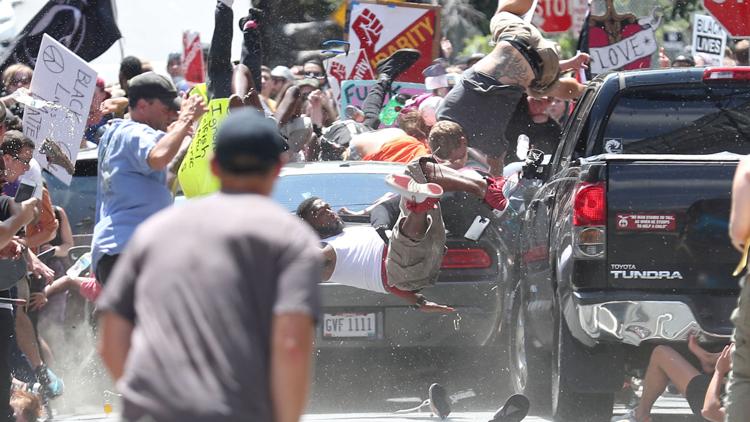 Charlottesville, Virginia, Daily Progress news photo
A car driven by a 20-year-old neo-Nazi and registered Republican from Ohio plows through a crowd of anti-neo-Nazi/anti-fascist demonstrators yesterday in Charlottesville, Virginia, killing one woman and injuring 19 others. Additionally, two Virginia state troopers were killed in a helicopter accident while policing the neo-Nazi rally that was dubbed the "Unite the Right" rally, ostensibly to protect a statue of Confederate "hero" Robert E. Lee from removal in the Virginia city.
I largely agree with Salon.com's Amanda Marcotte's research and opinion, which she had expressed before shit went down in Charlottesville, Virginia, yesterday, that, as the headline of her piece puts it, "It's time to fight the alt-right — but not by actually fighting in the street."
I, for one, have no desire to be anywhere in the vicinity of a showdown between the neo-Nazis — I reject the euphemistic term "alt-right"; these are garden-variety neo-Nazis, not anything new — and the anti-fascists/anti-neo-Nazis.
You could get stabbed, as multiple people were in a melee between the neo-Nazis and the anti-fascists here in Sacramento last summer, or shot, or severely beaten, perhaps even to death, or, as happened to several people yesterday in Charlottesville, intentionally hit by a car (and thus killed, as was one 32-year-old woman, or severely injured, as were several).
I surmise that few to none of these people demonstrating against the neo-Nazis who were seriously injured or killed had really thought that they might seriously be injured or killed, but it was predictable that they were at such risk.
In the end, is serious injury or death worth it where it comes to the fairly tiny minority who are neo-Nazis? What does it accomplish in terms of changing the overall social order?
Don't get me wrong. Because a neo-Nazi and registered Repugnican (is there much difference between the two, especially among those who support "President" Pussygrabber?) murdered someone by car yesterday, demonstrating yet once again that yes, indeed, the neo-Nazis are much more likely to commit unnecessary, deadly violence than are the anti-fascists, in the court of public opinion I'd chalk this one up as a win for us anti-fascists.
But that came at the cost of three lives lost yesterday in Virginia because of a relatively small bunch of fucking losers who aren't at all worth that cost.
Because the neo-Nazis are a relatively small group, I don't know that it is at all necessary to go mano-a-mano with them in the streets. As Marcotte notes:
… To be clear, neo-Nazis and the like tend to be disorganized and unreliable, so there are decent odds [that the] Unite the Right [rally] will be poorly attended, and the resulting atmosphere will be one of comical pathos rather than the menace far-right forces are hoping for.
Unfortunately, as Bob Moser at the New Republic argued, there is one group that can help restore some lost dignity to the wannabe fascists: progressive counter-protesters. Yes, the very people eager to fight white supremacists in the street may, as Moser argues, be helping the cause of white supremacy. [Emphasis mine.]
"By confronting both the various breeds of white supremacists with fury and violence, we're giving them better media attention and recruitment tools than the worst of the worst could ever hope to muster for themselves," Moser argued.
He laid out a number of examples of how alt-right and KKK rallies are typically poorly attended by white supremacists themselves, and that the behavior of counter-protesters — who often outnumber the actual racists — are invariably used as propaganda by these groups to recruit more members online, which is where the real action is happening. …
Marcotte goes on later:
… As someone whose instinct is to run towards confrontation and not away from it, I decided to talk this out with Heidi Beirich of the Southern Poverty Law Center, whom Bob Moser used to work for.
The SPLC also warns against counter-protesting, but, Beirich explained, this should not be confused with minimizing the seriousness of the white supremacy threat or claiming that ignoring bullies makes them go away.
"This is a legitimate [???] group of people in the United States who have growing political power and who have frightening views when it comes to minorities," she said.
"I don't find that you're not standing up to bullies" if you resist the urge for angry confrontation, she continued. "I think you're starving them of the oxygen that they live off," meaning right-wingers' pretense that they are constantly victimized, censored and assaulted, a narrative that tends to play better if they actually encounter violent confrontation in the streets.
Instead of counter-protesting, Beirich argued, progressives should speak out in other ways. She recommended speaking out online, lobbying politicians to fight hate crimes and holding counter-rallies at a different place or time. [I don't know about that; such rallies could attract neo-Nazis, it seems to me, but of course, everyone has the First-Amendment right to assemble peacefully, and I don't believe that people should cave in on their First-Amendment rights because some neo-Nazis might show up.]
"When you put on something positive that also gets coverage, it presents your community in a much better light, and it puts the focal point on the ideas that are the peaceful, caring ones," Beirich said.
Holding rallies not centered around direct confrontation with the alt-right has, I'd argue, another benefit: It's far more inclusive. Direct confrontation on the streets that may lead to violence is a tactic that naturally favors young, able-bodied people, especially men.
For women, disabled people, parents, older people and racial minorities that have stronger concerns about violence from white supremacists, the face-to-face showdown strategy can often be alienating. [Emphasis mine.]
Still, I totally get those who feel that holding hands and giving speeches about favoring love over hate doesn't feel like nearly enough. People are angry and want, for very good reason, to screw with these guys a bit. Isn't there any way to take the fight to the wannabe Nazis?
One thing that's important to understand, Beirich noted, is that the alt-right "is an online movement, for the most part." Some of its leaders have basically resorted to pleading with their followers to show up for actual events in the offline world.
That has had some effect, with bigger crowds at the American Renaissance Conference and other rallies, but the primary audience and organizing platform for far-right activism remains the Internet.
Even when alt-right folks gather in person, it's mostly about getting group photos that can be used to recruit new followers online by promising a sense of community.
So for those who are attracted to the simple pleasure of screwing with Nazis, the online world is where to go to make fools of these fools. Beirich suggested reporting hate speech on social media, but there are an increasing number of ways for progressives  to use the same online tools used by white supremacists to organize against them. …
Agreed. Most of the fight indeed is within the court of public opinion, and a huge part of that fight is online, where public opinion increasingly is formed.
The majority of Americans already have fairly strong feelings one way or the other where it comes to neo-Nazis, it seems to me, but the vast majority of Americans never are going to go to a neo-Nazi rally. And who, exactly, are you converting at a neo-Nazi rally? Who there has an opinion that you can sway?
Let the 41-year-old virgins have their little neo-Nazi rallies. Let's not give them the physical confrontation that they want and that they then use to recruit. It's better to ignore them and thus to let them be embarrassed and to further weaken their ability to recruit. To confront them gives them the veneer of legitimacy and importance that they don't actually inherently possess.
But don't get me wrong; should these treasonous, far-right-wing motherfuckers ever truly become a significant threat to the well-being of those whom they hate — should they, say, begin to physically attack the objects of their hatred with anything that is like regularity and that is outside of lone-wolf actions — then yes, let's face them in the street.
But if they're just going to gather in public spaces from time to time and spout off, let them; and ignore them.
And yes, while we're on the subject, the symbols of white-supremacist/white-nationalist terrorism need to be removed from public property.
The Confederate flag belongs in museums, not on any property that is supported with a penny of taxes. And Confederate statuary — such as the statue of Robert E. Lee in Charlottesville, Virginia, whose removal was approved by the city council but is now tied up in litigation (and which ostensibly was the reason for the "Unite the Right" rally in Charlottesville yesterday) — has no place in public, either, especially in places that are maintained by tax revenues.
The Confederate flag and a statue of a Confederate "hero" — and let's get this straight: no traitor who fought for the "cause" of perpetuating slavery can be a fucking "hero" — are not neutral, innocuous symbols of "history" or "heritage."
They are terrorist symbols that are meant to strike fear into the hearts of certain members of those who see them, and no one should have to worry about being out and about in public and encountering terrorist symbols that are meant to terrorize them.
The war here for the most part is not against the white race, if there really even is any such monolithic thing as "the white race." ("You will not replace us," the apparently spooked neo-Nazis chanted this past weekend in Charlottesville, but whites still make up more than 60 percent of the U.S. population and so probably aren't going to be "replaced" any year soon.*)
The war here is against terrorism — in this case, the domestic terrorism that routinely is perpetrated by the neo-Nazis.
We have to continue to fight against these domestic terrorists and traitors, and we have to do so intelligently and effectively.
Brawling with them probably isn't the way to do that. Not right now, not yet, anyway.
P.S. Slate.com reports that the murderer by car was photographed with a neo-Nazi group earlier in the day by a news photographer yesterday, so no, the neo-Nazis can't distance themselves from this guy. He is one of them.
Here is the news photo: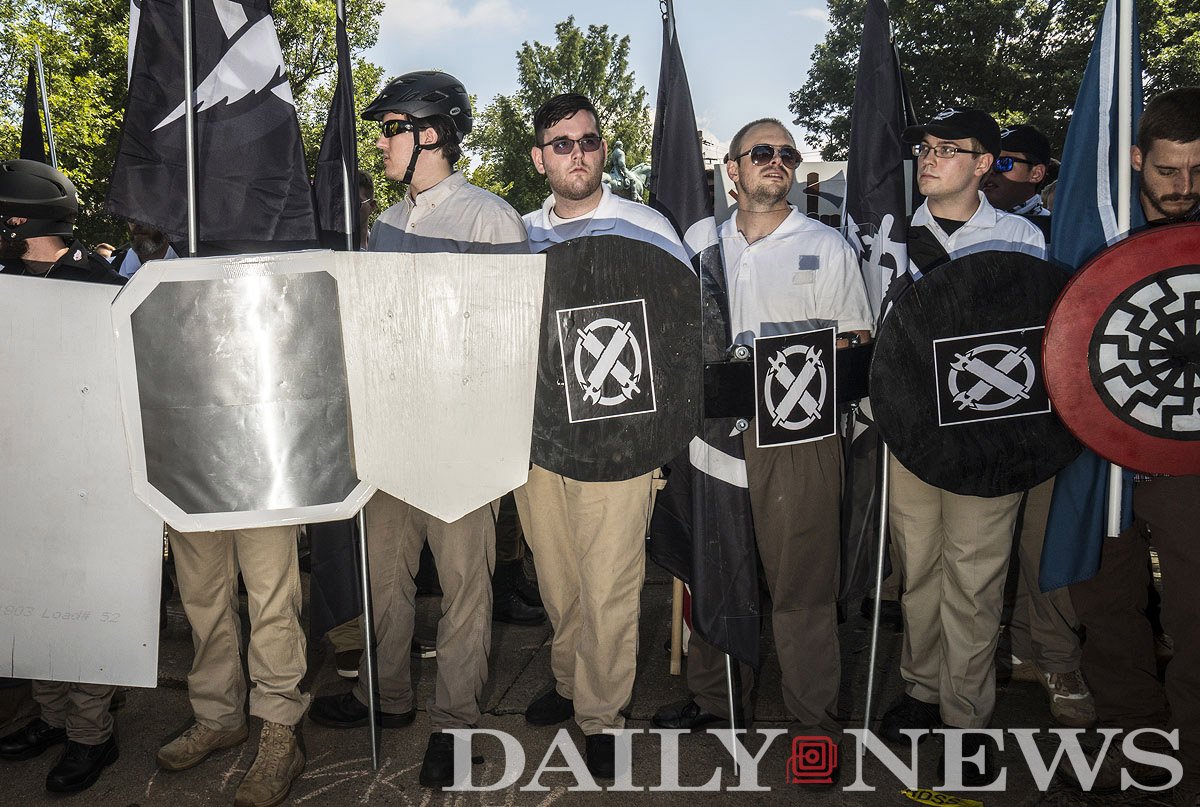 New York Daily News news photo
The perpetrator, whose name is James Alex Fields Jr., is the evil fucktard in the middle, fourth from the left and fourth from the right.
—
*That said, the racial composition of the United States doesn't matter. It has changed throughout the decades and it will continue to change in the decades to come. At one time it was solely Native Americans, of course, and yes, in the modern era the U.S. is becoming less and less white, with Latinos being the fastest-growing non-white racial group in the U.S.
As a white man, I'm not troubled by this in the least. The only thing that is constant is change, and the change in racial demographics in the U.S. is a slow, gradual change, and for the most part it is a non-violent change except for the violence perpetrated by the neo-Nazis.
Finally, I am a proponent of racial mixing, socially, culturally and reproductively. Genetically and culturally, inbreeding is the worst thing that you can do; it only guarantees that your defects and weaknesses are repeated — and sometimes even amplified.
If racial "purity" were a good thing, then so many of the neo-Nazis wouldn't be mouth-breathing, knuckle-dragging fucktards. The proof is in the pudding.