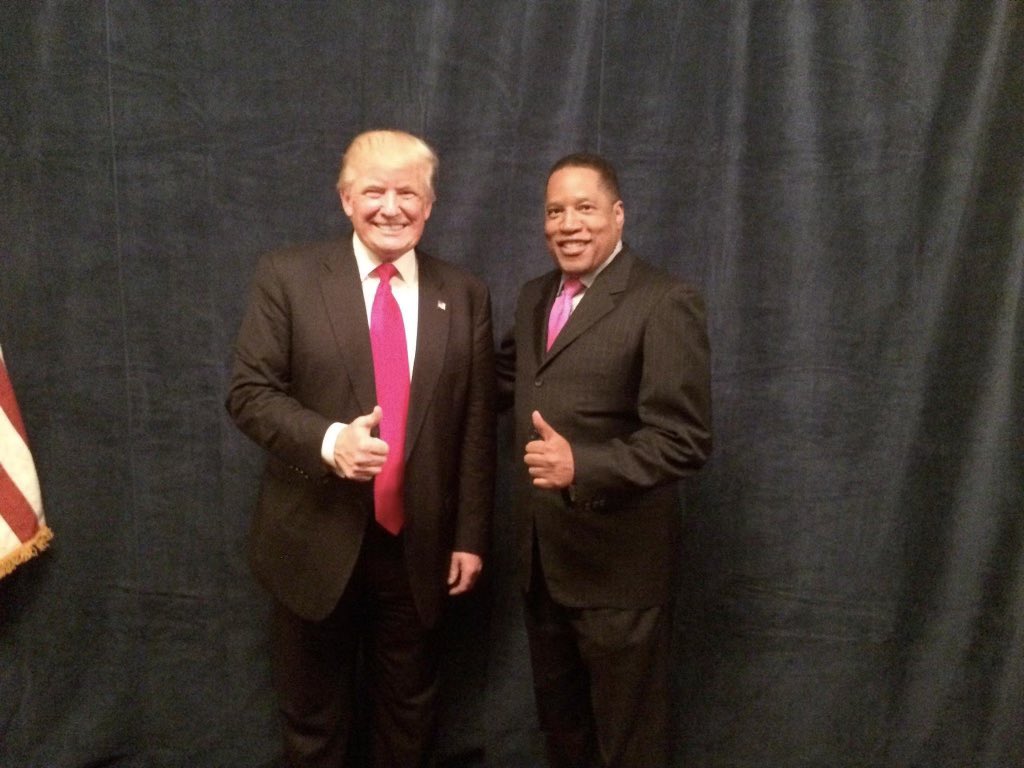 Fascist-Repugnican talk-radio host Larry Elder, shown with his buddy former "President" Pussygrabber in a Tweet that Elder posted himself in July 2018 (and again in October 2020), just might become California's next governor in the September 14 gubernatorial recall election with millions of fewer votes than the number of votes for current Gov. Gavin Newsom to keep his job — but there's no way in hell that Elder could win election outright in November 2022, which he'd have to do in order to keep the job.
Having lived here in California since September 1998, I think that I'm qualified to state that with each passing year, I've agreed more and more with the assertion that the nation's most populous state inherently is ungovernable.
Nonetheless, the nation's most populous state has a governor, and soon, the right-wing nut-job minority of the state might be handed the reins of governance.
California has a gubernatorial recall election — the second one since I've lived here — on September 14, and, as two law professors correctly and importantly pointed out a few days ago in a piece in The New York Times, we could see the scenario in which current California Gov. Gavin Newsom loses his job by falling just short of the 50.0 percent of the vote plus one vote that he needs to keep his job. Yet thus far, only 18 percent is the highest that I've seen for the candidate who is polling the best of the 46 potential gubernatorial replacement candidates who are on the recall ballot.
This means that even if, say, 49.9 percent of the state's voters elect to keep Newsom in place, a much smaller amount of voters (say, only around 18 percent of them…) could override the wishes of the much higher amount of voters who essentially had voted for Newsom — and put right-wing nut-job talk-radio host (of course…) Larry Elder (the aforementioned front-runner for Newsom's job, according to the polling) in the governorship.
This is the dream scenario for the increasingly fascist, increasingly authoritarian, increasingly anti-democratic Repugnican Party: rule over the majority by the minority. (Indeed, we saw this in 2000, when Al Gore won the popular vote yet loser George W. Bush became "president," and in 2016, when Billary Clinton won the popular vote, yet loser Pussygrabber became "president.")
Politico reports on this issue: "'The [recall-election] ballots are out, so I don't think a judge is going to unwind this [election],' said Jessica Levinson, a professor at Loyola Law School. A [law]suit could be more ripe after the election, she said, if it turns out that Newsom loses but receives more votes than the winner of the recall."
Indeed, that's exactly what should happen if a "new" "governor" is put into place by a smaller number of voters than the number of voters who voted to keep Newsom: it should be challenged in court as unconstitutional, violating the democratic principle that the candidate who wins the higher number of votes is the one who wins the election (any other outcome is blatantly anti-democratic, and yes, for that reason, the antiquated, blatantly anti-democratic Electoral College must go, too).
In the meantime, California's recall process needs to be fixed so that the will of the higher number of voters always fucking prevails. (Even just requiring a run-off election — instead of allowing a candidate with a small plurality of the vote to become governor — would be an improvement in California's recall process.) This is, after all, supposedly, a democracy.
Of course, even if fascist-Repugnican Larry Elder becomes the next governor — and his lovely political stances include opposing a minimum wage, opposing the right to an abortion, opposing the idea that there is systemic racism in the United States, and, of course, being a fucking homophobe — he very most likely wouldn't be governor for very long, and in the quite foreseeable future we even could see the return of Gov. Gavin Newsom.
Why?
Because if Newsom is recalled, that doesn't mean that he could not run for governor again, even in the next cycle, which is next year; he could if he wanted to. And regardless of who wins the September 14 gubernatorial recall election, whoever wants to be governor as of January 2023 must run in the regularly scheduled June 2022 gubernatorial primary election and be one of the top-two vote-getters in that primary election to be able to move on to the November 2022 gubernatorial general election — and then must win that election, too.
I don't see any Repugnican doing that, not in a state whose voters are 46.5 percent Democratic to only 24 percent Repugnican at last count. Indeed, so deep blue is California that Newsom won election in 2018 by 62 percent to his pathetic Repugnican challenger's 38 percent, and Joe Biden won California by 63.5 percent to Pussygrabber's 34 percent.
Despite these daunting numbers, however, fully expect the fascist-Repugnicans to claim that if Newsom keeps his job, as he probably will, it was only because of "election fraud." (An election is legitimate only if the fascist "wins," you see; that is a central tenet of fascism, as we've seen played out as Pussygrabber & Co. still fascistically, treasonously and anti-democratically claim that Pussygrabber actually won the 2020 presidential election despite having lost it by more than 7 million votes.)
Newsom could lose his job in next month's recall election, though; for quite a while now California's voters have been run through the fucking wringer, as California experiences perhaps an unprecedented number of big problems all at the same time, including wildfires (mostly in the northern part of the state, along with Oregon), recurring drought, a serious lack of affordable housing and rampant homelessness* and, of course, probably first and foremost in most voters' minds, the never-ending novel coronavirus pandemic that probably would have been over by now had the mouth-breathing, knuckle-dragging, MAGA-cap-wearing fucktards** not have tried to turn efforts to beat the pandemic (such as by the use of the three available vaccines and the use of face masks) into some backasswards tribal, political statement.
I mean, it's ironic that the Repugnicans help to create the problem, such as the wholly unnecessary and wholly preventable extension of the COVID-19 pandemic, and then seek to benefit politically from the problem that they helped create, but we've seen this page from the fascist's playbook before, such as with the Reichstag fire (and even with the 2003 California gubernatorial recall election, in which Repugnican Arnold "Baby Daddy" Schwarzenegger had had a secret meeting with Enron — and then used Enron's raping of the state via a manufactured electricity crisis to get himself into the governorship in that recall election).
Whatever California's big problems are now, however, under a fascist-Repugnican like Larry Elder (who wholeheartedly supports former "President" Pussygrabber, of course), the state would get even worse.
Therefore, of course I'll be voting "NO" on Gavin Newsom's recall, probably within the week (I should receive my vote-by-mail ballot within the next few days and probably will mail it back within a day or two).
I'm not wild about Gavin Newsom — I'm a "Bernie bro," not a Democratic Party hack (indeed, I'm registered as an independent because I have real fucking problems with the pro-corporate, income-inequality-loving-but-nauseatingly-"woke" Democratic Party establishment) — but right now Newsom (for whom I did vote in November 2018) is our best bet to be at the helm of the nation's most populous state (which, because it has the highest number of people, of course should have the highest number of problems…).
If we Californians think that we have it bad now, all that we need to do is to allow a Repugnican to take the reins — even if for only a relatively short period of time.
—
*California has only about 12 percent of the nation's population, yet has about a quarter of the nation's homeless. The fascist-Repugnicans like to say that this is because California is an inherently failed state, but no, clearly, homeless people are coming to California from other (I surmise mostly red) states, knowing that much if not most of California not only has a more favorable climate that do most other states, but that California isn't nearly as mean-spirited toward the homeless as most other (supposedly "Christian") states are.
**Indeed, it seems to me that Afghanistan right now is being overrun by its own type of teatard/Pussygrabber-loving/Q-Anon/anti-vax animals. Indeed, the only difference between the members of the Taliban ("Islamofascists") and the "Christo"fascists here in the United States is the content of their backasswards religious beliefs. Otherwise, they're remarkably similar, including their hatred of democracy, science, logic, reason, human rights, actual religious freedom, etc.