Updated below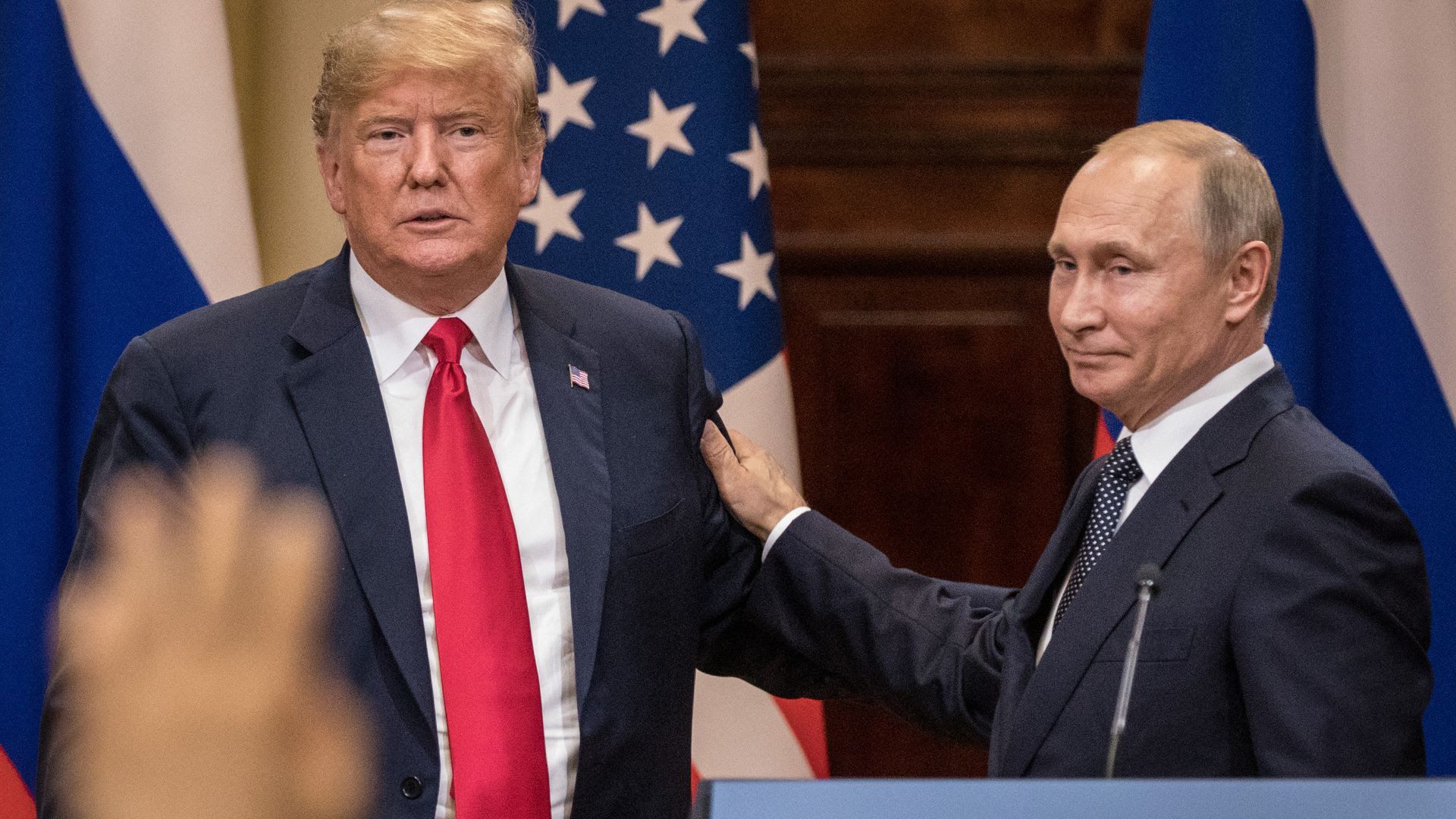 Getty Images photo
At yesterday's surreal debacle in Helsinki, Finland, U.S. "President" Pussygrabber looks bewildered while Russian dictator Vladimir Putin looks quite confident (after all, Putin has been grabbing Pussygrabber by the pussy for some time now). At the debacle yesterday, Pussygrabber proclaimed, "I don't see any reason why it would be" Russia that was responsible for the meddling in the 2016 U.S. presidential election, offering as his "evidence" for this assertion that "President Putin was extremely strong and powerful in his denial today." It's time to panic.
It was clear that there was something seriously wrong before "President" Pussygrabber's first day in the Oval Office.
As I wrote back in December 2016:
… In that thus far he has lost the popular vote by a significantly larger margin than Gee Dubya did [in 2000] — if we think that it's at all important that in a democracy the candidate who actually earns the highest number of votes of the people actually is the one who takes office — Trump is even more illegitimate than George W. Bush was, but Bush's illegitimacy was worsened with the blatantly partisan — and treasonously anti-democratic — involvement of his brother, Florida elections chief Katherine Harris and the wingnutty members of the U.S. Supreme Court.
That said, it still has yet to be determined exhaustively how and how much Russia meddled in the 2016 presidential election to try to get Trump rather than Billary into the big chair in the Oval Office. Arguably, Trump's having had the help of a foreign government to win the White House is even more treasonous than anything that Team Bush ever did to steal the presidency.
The Washington Post has been all over Trump's ties to Moscow, with recent news stories such as these:
A rather clear pattern has emerged, and it's pretty fucking funny (in a sick and fucking twisted way, not in a humorous way) that the American right wing, which for decades was opposed to the "evil empire," very apparently has as its "president" a treasonous piece of shit who has colluded with that "evil empire" in order to win the presidency — with the "evil empire's" full expectation, of course, that in return, "President" Trump will do its bidding (in Syria and elsewhere).
True, Trump's die-hard, mouth-breathing, knuckle-dragging supporters don't care even if he's in bed with Vladimir Putin, perhaps even literally, but these self-defeating dipshits are only a minority of Americans. The majority of us Americans — not just Democrats and Democratic leaners, but also old-school, non-Trumpist Repugicans, too, as well as most so-called independents — take a U.S. "president"-"elect" colluding with a foreign government very, very seriously.
Indeed, The Angel of Political Death looms over "President"-"elect" Donald Trump, its scythe at the ready for swift use at any moment. …
Admittedly, however, Pussygrabber is much like a cockroach; you think that now he's dead, he has to be — and he's not. The recording of him bragging about routinely sexually assaulting and battering women should have been his end, but it was not. (I, for one, never will let it go, and therefore for a long time now I have refused to use Pussygrabber's real surname unless I'm quoting another source. And never do I call him the president without quotation marks around the title, because, as always was the case with George W. Bush, I refuse to give an illegitimate president legitimacy by using the title without the designation of illegitimacy.)
Admittedly, I could stomach only a small amount of video from yesterday's debacle in Helsinki. As he was taking the side of Russian dictator Vladimir Putin (whose supposed claims of innocence are "proof" enough for Pussygrabber) over the side of the American people in the question of Russian meddling in the 2016 U.S. presidential election, I watched a flailing, addled Pussygrabber repeat like a brain-damaged parrot, "Where's the server? Where's the server? Where's the server?" like the abjectly moronic baby-boomer asshole that he is.
I, for one, don't give a flying fuck about any Democratic server. I care that "my" president embarrassed and sold out my nation to the likes of dictator-thug Vladimir Putin yesterday.
No, I've never been big on the Cold War — until Pussygrabber's hostile takeover of the Repugnican Party, that always was the domain of the American right wing — but the Cold War isn't over, and Russia isn't our friend.
Admittedly, the Billary Clinton camp's early focus on Russia to me seemed like possible if not probable bullshit, simply an attempt to divert attention from the fact that the unlikable Billary — Barack Obama back in January 2008 called her "likable enough," but she wasn't likable enough to have won the Electoral College in November 2016, very apparently — ran a shitty, shitty campaign.
Since then, however, the many, many connections between PussygrabberWorld and Russian operatives and the absolute refusal of "President" Pussygrabber to hurt Vladimir Putin's feewings make it clear enough that the Pussygrabber regime is in bed with the Putin regime.
On top of this overwhelming circumstantial evidence, we have the American intelligence community's official proclamations that Russian operatives did their best to throw the 2016 presidential election to Pussygrabber.
Even outgoing (good riddance!) Speaker of the House Repugnican Paul Ryan proclaims that "They [Russian operatives] did interfere in our elections – it's really clear. There should be no doubt about that."
"Ryan, R-Wis., said he has seen intelligence that left no doubt that Russia interfered in the election," reports USA Today, but nonetheless, Ryan also proclaims that Russia's meddling had no "material effect" on the election. (Specifically, he said, "It's also clear that it [the Russian meddling] didn't have a material effect on our elections.") Party over nation, you see. Must! Protect! The! Repugnican! Party!
Russia didn't sink resources into throwing the 2016 U.S. presidential election to Pussygrabber in order to have no "material effect," but the fact of the matter is that when operatives are operating in the shadows, it can be difficult to impossible to say, with certainty, how effective they were or were not. That's part and parcel of operating within the shadows.
The historical fact that Pussygrabber took the Electoral College with only around 80,000 more votes than Billary got in just three critical Rust-Belt states (Michigan, Pennsylvania and Wisconsin) — Vanity Fair notes cleverly that you could fit all of these voters inside of "a mid-size football stadium" — demonstrates that of course the Russian meddling very well may have had a very material effect on the fucking election.
To put Pussygrabber into the White House, Russian operatives didn't need to convince that many voters in that many states, for fuck's sake. It apparently turned out to have been a pretty easy job. Paul "Party Over the American People" Ryan sorely needs to go fuck himself sore.
Arizona Repugnican U.S. Sen. John McCain, his conscience apparently freed by the fact that he'll probably be taking the big dirt nap any time now, said of Pussygrabber's little stunt in Helsinki yesterday that "No prior [American] president has ever abased himself more abjectly before a tyrant."
Yup.
McCain also said, "Today's press conference in Helsinki was one of the most disgraceful performances by an American president in memory. The damage inflicted by President Trump's naiveté, egotism, false equivalence, and sympathy for autocrats is difficult to calculate. But it is clear that the summit in Helsinki was a tragic mistake.
"President Trump proved not only unable, but unwilling to stand up to Putin. He and Putin seemed to be speaking from the same script as the president made a conscious choice to defend a tyrant against the fair questions of a free press, and to grant Putin an uncontested platform to spew propaganda and lies to the world." (McCain's full statement is here.)
I agree with John McCain, and it pains me to write those five words.
Again, unlike McCain, I've never been a Cold Warrior. That's a function of the difference in our ages (31 years) and our lifetime experiences and of our political orientations (I am registered with no political party, and "democratic socialist" describes me the best [I've been waiting patiently for others to come along for some time now, and they are coming along]).
And with old-school Russian Communism dead and perpetually "elected" dictator Vladimir Putin at the helm, today's Russia is not the same Russia of the Cold War.
Therefore, although I'm not easily unsettled, perhaps especially after the eight long years of the unelected George W. Bush regime and the first year and a half of the unelected Pussygrabber regime, to watch Pussygrabber blithely hand the United States of America over to Vladimir Putin yesterday, as though the USA were just another piece of land for Putin's Russia to fucking annex, unsettled me deeply.
This should be the beginning of the quick end not only of the unelected Pussygrabber regime — minimally, Pussygrabber must be reined in after the Democrats take back the U.S. House of Representatives this coming November — but it should be the beginning of the end of the Repugnican Party as a whole.
Tragically, however, there aren't enough patriots left in the United States of America; they call themselves "patriots" the most often and the most loudly and the most obnoxiously and the most tackily, but instead of actually protecting the nation, they protect the treasonous Pussygrabber, no matter what he says and does, and because Pussygrabber is in bed with Putin, they protect Putin, too, if not directly, then by their treasonous acquiescence.
P.S. Back in December 2016 I also pontificated, "If [Pussygrabber] makes it to Inauguration Day 2017, I don't see him making it to Inauguration Day 2021."
I stand by that prediction. Unless the Democrats royally fuck it up again by fronting yet another stunningly unlikable candidate like Billary Clinton, I can't see Pussygrabber getting a second term.
Pussygrabber's Russian-related treason, coupled with everything else, should be enough for the Democrats to take back the House this coming November, and if the Democrats do their job in the House starting in January 2019, they'll cripple Pussygrabber as much as possible in the last two years of his first and only term.
With significant Democratic opposition in the House, hopefully Pussygrabber would decide that being child-king isn't fun anymore and he would decide not to run for a second term, or, if he does run, he is defeated soundly (by Bernie Sanders, most preferably). After all, even the widely despised Billary Clinton won almost three more million votes than Pussygrabber did in November 2016.
It should be a job that even the Democrats can do.
Update: Wow. So this is Pussygrabber's "defense" of his treasonous defense of Russia yesterday. What he said yesterday was:
… My people came to me, [Director of National Intelligence] Dan Coats came to me and some others; they said they think it's Russia. I have President Putin. He just said it's not Russia. I will say this. I don't see any reason why it would be, but I really do want to see the server. But I have confidence in both parties. … I think it's a disgrace that we can't get Hillary Clinton's 33,000 emails.
So I have great confidence in my intelligence people, but I will tell you that President Putin was extremely strong and powerful in his denial today. And what he did is an incredible offer. He offered to have the people working on the case come and work with their investigators, with respect to the 12 people [Russian agents indicted by special counsel Robert Mueller for election interference]. I think that's an incredible offer. …
Within the context of everything else that he said yesterday, including jaw-droppingly surreally praising Vladimir Putin's good-faith-I'm-sure offer to help American investigators to investigate Russia, Pussygrabber today actually claimed that it was just one misspoken word: "The sentence should have been, 'I don't see any reason why it wouldn't be Russia,'" Pussygrabber actually claimed today, adding, "Sort of a double negative. So you can put that [the word "wouldn't" for "would"] in, and I think that probably clarifies things pretty good by itself."
Yup, all done! Treason averted!
Vox.com calls Pussygrabber's latest lie ("would" should have been "wouldn't") "arguably the most bald-faced lie of his entire presidency — and that's saying something."
Yup.
Leave it to "very stable genius" Pussygrabber to only dig his hole even deeper by telling a lie that's at the 5-year-old level. (As I said: he's a child-king.)
Finally (I hope), I just stumbled across the news item that the author of the hysterical anti-Commie book None Dare Call It Treason, a wingnut who issued the paranoiac book in 1964, the year of Barry Goldwater, when the Red Scare wasn't yet entirely dead, keeled over on July 10.
It's freakish timing; the phrase "none dare call it treason" was in my mind, but until I read about the recent death of the author of the book of that title (after I already had titled this blog piece), I didn't know that the "treason" referred to in that phrase was being in league with Russia to the detriment of the United States of America.
The fucking irony.