Updated below (on Friday, June 15, 2018)
Because Jesus Christ was all about breaking up families.
It is ironic that the "Christians" among us are so fucking evil. It's not what Jesus Christ would do; it's what "President" Pussygrabber would do.
I can't believe that we even have to discuss whether or not separating children from their parents is acceptable. Of course it's not acceptable.
Yet Nazi elf Jefferson Beauregard Sessions III said today that the unelected Pussygrabber regime's cruel policy of separating undocumented immigrant children from their undocumented immigrant parents is — wait for it — biblically sanctioned.
"I would cite you to the Apostle Paul and his clear and wise command in Romans 13, to obey the laws of the government because God has ordained them for the purpose of order," he said today. "Orderly and lawful processes are good in themselves and protect the weak and lawful."
Protecting the weak is the goal of the Pussygrabber regime's constant attacks on undocumented immigrants — and even on U.S. citizens, such as the citizens of Puerto Rico who continue to be ignored because they aren't white?
Pussygrabber regime spokesnake Sarah Huckabee Sanders backed the Nazi elf up; The Associated Press reports today that she "said [today] that she hadn't seen Sessions' comments but affirmed that the Bible did back up the administration's actions.
"'I can say that it is very biblical to enforce the law. That is actually repeated a number of times throughout the Bible,' she said. 'It's a moral policy to follow and enforce the law.'"
If a government's laws are so fucking sacrosanct, then what about the ancient Roman Empire's laws to persecute the early Christians? Were those laws OK? Or are we going to pick and choose among the laws that we use to justify our evil against others?
If you call yourself a Christian, there is only one law above all others that you should follow. This iteration of it comes from John 13:34-35: "'A new command I give you: Love one another. As I have loved you, so you must love one another. By this everyone will know that you are my disciples, if you love one another.'"
Another iteration of this supreme law — which, in a word, boils down to "love" — comes from Luke 6:31: "'Do to others as you would have them do to you.'"
If you call yourself a Christian, these aren't helpful hints or suggestions. These are commands from Jesus Christ recorded in the New Testament.
You cannot call yourself a Christian if you refuse to obey the commands of Jesus Christ.
Trying to fall back on "orderliness" and "lawfulness" to justify knowingly causing pain and suffering to others that you would not want visited upon yourself is evil. It is anti-Christian. It is satanic.
Don't get me wrong; I get it that U.S. citizens who are incarcerated for serious crimes are separated from their children, and that there is no general outcry against this practice, which widely is considered to be a part of the price that one pays for having been convicted of having committed a serious crime.
But undocumented immigrants' "crime" is wanting a better life. For that "crime" alone, families should not be separated.
… Last month, [Sessions] announced a "zero tolerance" policy that any adult who enters the country illegally is criminally prosecuted. U.S. protocol prohibits detaining children with their parents because the children are not charged with a crime and the parents are.
According to U.S. Customs and Border Protection, more than 650 children were separated from their parents at the U.S.-Mexico border during a two-week period in May. …
and
… In an unusually tense series of exchanges in the White House briefing room [today], [Sarah Huckabee] Sanders wrongly blamed Democrats for the policy separating children from parents and insisted the administration had made no changes in increasing the use.
[But] Until the policy was announced in April, such families were usually referred for civil deportation proceedings, not requiring separation. … [Emphasis mine.]
Again, only if an undocumented immigrant has been charged with having committed a serious crime — a felony — should he or she possibly be separated from his or her children. Simply being where you're "not supposed" to be is not a serious crime.
Shame on us, the American people, if we continue to allow "our" government to continue to perpetrate pain and suffering on those who only want a better life for themselves and their families — and to claim ludicrously (and yes, satanically) that the Bible backs them up in their commission of their evil.
Update (Friday, June 15, 2018): I just wanted to add a few more points.
First, another quote — and commandment — of Jesus Christ: "Love your neighbor as yourself." That comes from Mark 12:31. Is Mexico and the rest of Latin America our neighbor? If so, shouldn't we love those from Mexico and the rest of Latin America?
It's quite rare that a right-wing "Christian" (such as Jefferson Beauregard Sessions III) quotes Jesus Christ himself. Instead, these "Christians" usually opt for the authoritarian, pro-institution-over-the-individual later books of the New Testament, the cold, detached, churchy ones that talk about so-called law and order, not about love from one human being to another.
Secondly, here is a wonderful editorial cartoon that was killed by editorial cartoonist Rob Rogers' newspaper, the Pittsburgh Post-Gazette, which apparently fired him because of his unflattering editorial cartoons about Der Pussygrabber: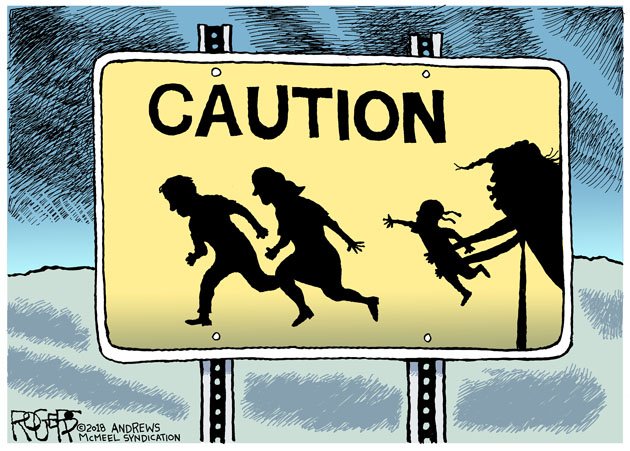 More of his suppressed work is here, and I have to include this one, too: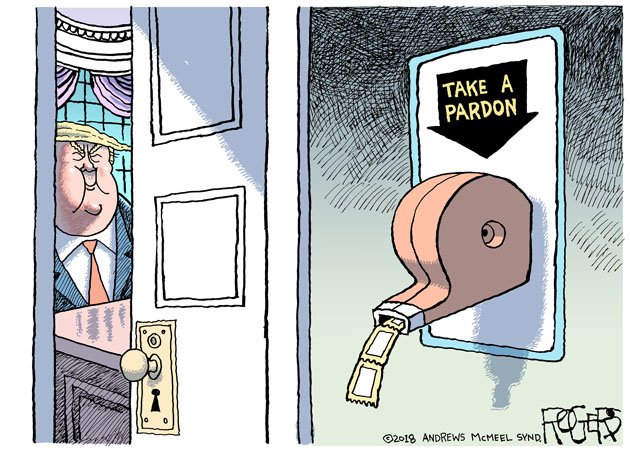 OK, and this one: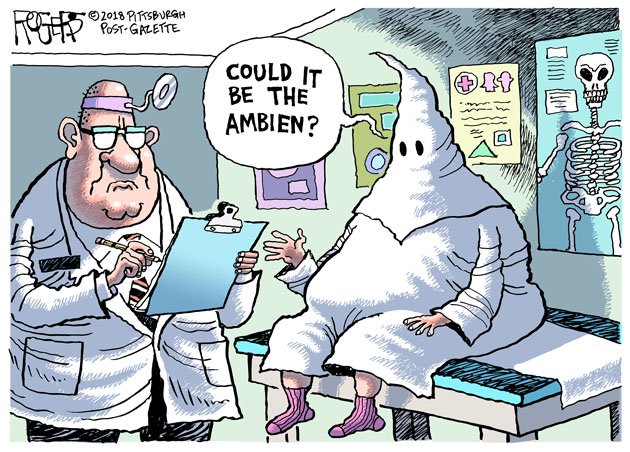 I love a good editorial cartoon and I should include a lot more of them here…
Finally, today The Associated Press explains the scope of this family-separation bullshit:
Washington — Nearly 2,000 children have been separated from their families at the [southern] U.S. border over a six-week period during a crackdown on illegal entries, according to Department of Homeland Security figures obtained [today] by The Associated Press.
The figures show that 1,995 minors were separated from 1,940 adults from April 19 through May 31. The separations were not broken down by age, and included separations for illegal entry, immigration violations or possible criminal conduct by the adult.
Under a "zero tolerance" policy announced by Attorney General Jeff Sessions, Department of Homeland Security officials are now referring all cases of illegal entry for criminal prosecution. U.S. protocol prohibits detaining children with their parents because the children are not charged with a crime and the parents are.
Sessions announced the effort April 6, and Homeland Security began stepping up referrals in early May, effectively putting the policy into action.
Since then, stories of weeping children torn from the arms of their frightened parents have flooded the media and the policy has been widely criticized by church groups, politicians and children's advocates who say it is inhumane. A battle in Congress is brewing in part over the issue.
Some immigrant advocates have said women were being separated from their infants — a charge Homeland Security and Justice officials flatly denied. They also said the children were being well cared for and disputed reports of disorder and mistreatment at the border. …
The International Rescue Committee, a humanitarian aid group, released a statement [today] saying, "A policy of willing cruelty to those people, and using young sons and daughters as pawns, shatters America's strong foundation of humanitarian sensibility and family values."
The new figures are for people who tried to enter the U.S. between official border crossings. Asylum seekers who go directly to official crossings are not separated from their families, except in specific circumstances — such as if officials can't confirm the relationship between the minors and adults, if the safety of the children is in question, or if the adult is being prosecuted. …
Finally finally, today the pathologically lying "President" Pussygrabber repeated the fucking lie that the Democrats are the ones who put the separation policy into place. "I hate the children being taken away," he huffed and puffed. "The Democrats have to change their law. That's their law."
"This is false," counters The Washington Post, adding: "As part of its border crackdown, the Trump administration is separating undocumented immigrant children from their parents largely due to a 'zero tolerance' policy implemented by Attorney General Jeff Sessions. No law requires these separations. [Link is WaPo's.] …"
That the unelected, fascistic, xenophobic, cruel Pussygrabber regime continues to lie blatantly that the Democrats are responsible for the separation of families at the southern border at least is an indirect acknowledgment that what the Pussygrabber regime is doing is evil.
But in the meantime, people are suffering because we, the American people, have not stopped "our" government from perpetrating evil — in this case, a form of ethnic cleansing — in our name.