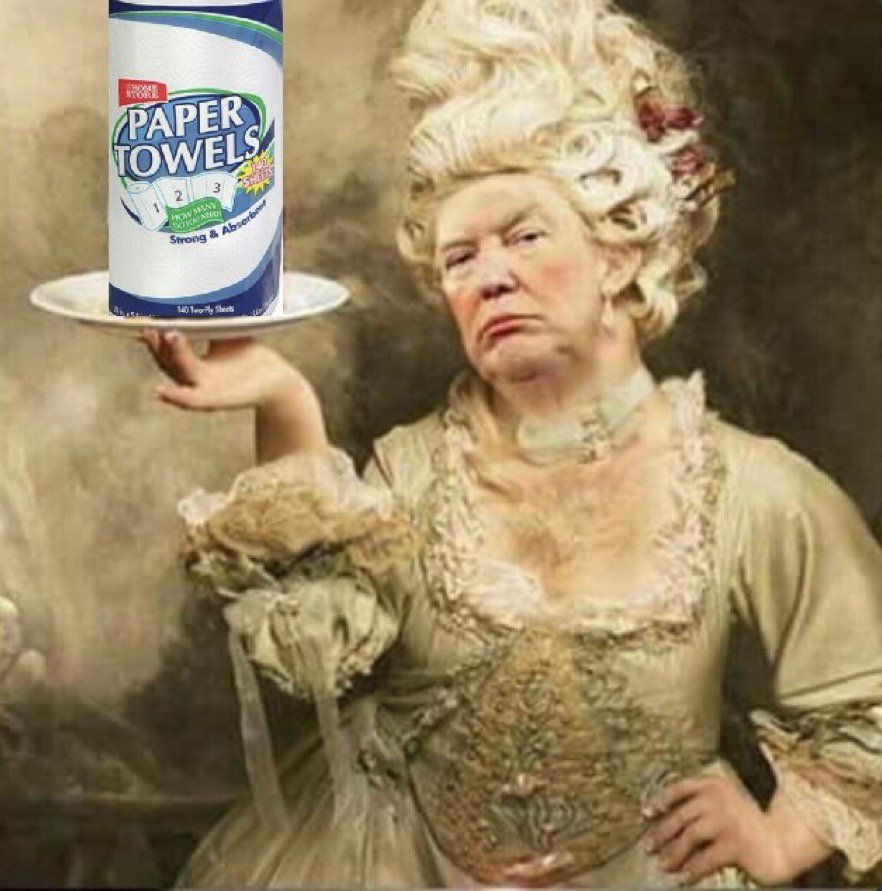 Image from Cher's Twitter feed
I haven't written much about "President" Pussygrabber, and that's in no small part because I never have accepted that he legitimately is the president of the United States of America (because he isn't a legitimate president).
That's for many reasons, but mostly, it's because millions more Americans voted for his opponent in November 2016 than voted for him — and that was even with the help of Russia. (If there were no "there" there, the many concurrent investigations into the very apparent collusion with Russia very probably wouldn't be ongoing.)
Also, of course, Pussygrabber not only is an abject moron and an ultra-tacky flim-flam man, but he had lost me well before the presidential election. He had lost me with his hateful, ignorant, racist anti-Mexican comments of June 2015 during his official "presidential" campaign announcement, and with the October 2016 release of the recording of him bragging that "when you're a star, they [(attractive) women] let you do … anything," such as "Grab them by the pussy."
"Trump is toast," I declared in October 2016, as I truly had believed that no one running for high office could survive having bragged, on tape, about "grabbing" women "by the pussy," but here we are.
(Hey, again, he did lose the popular vote — substantially, which is why he has lied repeatedly about actually having won the popular vote. The anti-democratic [and anti-Democratic] Electoral College has got to go; we tell people how important it is that they vote, and then the candidate who won the highest number of votes doesn't even take office, but the fucking loser does.)
Aside from his illegitimacy, Pussygrabber's abysmal behavior in office disallows me from considering him to be the real president of the United States of America. Just this past week in post-hurricane-ravaged Puerto Rico, for instance, "President" Pussygrabber (in no certain order):
Reuters news photo
Because when your nation has been destroyed by a natural disaster, your No. 1 need is paper towels. (And the paper towels that Mad King Pussygrabber so generously deigned to toss to the rabble of Puerto Rico weren't even the quicker picker-upper, which you would need after a hurricane.)
Seriously, though — look at that Reuters news photo above for a long time and then tell me that I should accept this fucking imbecile as my president, even if he actually had won the fucking presidential election.
(Oh, and as if he hadn't made a big enough of a baboon's ass of himself when he was in Puerto Rico earlier this week, during a speech for Hispanic Heritage Month at the White House yesterday, Pussygrabber very apparently adopted a mocking Spanish accent when he repeatedly said "Puerto Rico."*)
Alas, despite the mind-blowing image and the beyond-pathetic information above, I do have hope for the United States of America. "President" Pussygrabber isn't the first idiot in chief whom we have weathered (even though he does make even George W. Bush look presidential). We probably will survive him.**
And no, I don't buy the oft-repeated argument that Pussygrabber is just the logical outcome of what most Americans are. No, he isn't representative of most Americans. (Indeed, let me say it again: Most Americans did not vote for him; in fact, Billary beat him by 2.1 percentage points, or almost 3 million more popular votes.***)
Pussygrabber certainly is representative of his narcissistic and rapacious generation, the baby boomers, but not of all Americans. Indeed, Pussygrabber probably represents the last, pathetic gasp of rule by the baby boomers and rule by stupid white males (I can't call them "men").
I can't see our socially conscious young adults of today, when they become presidents in the future, acting anything like Pussygrabber routinely does. No, Pussygrabber is an anomaly, the occasional illegitimate, mad king that we've seen throughout history.
He will pass.
Yes, it feels like passing a fucking kidney stone, but it will pass.
And our history books (the honest ones, anyway) will record "President" Pussygrabber as just another bad blip, just another blemish on our history.
P.S. Two things: One, Pussygrabber still can't reach an approval rating of even 40 percent in most nationwide polls. This doesn't bode well for his "re"-election. Don't become complacent, but take some comfort in that fact.
Two, if you want to help out the people of Puerto Rico — whom you should want to help whether they are U.S. citizens or not — you can do so by giving what you can afford to give to the Hispanic Federation, as I have, and/or to another reputable aid organization.
—
*As I have noted, the anti-Latino Pussygrabber is doing to the Repugnican Party on the national level what anti-Latino former Repugnican California Gov. Pete Wilson did to the party here in California (for his own short-term personal and political gain, Wilson planted the seeds that later would decimate his party here in California).
As Latinos are the fastest-growing group of people in the United States, I encourage the Repugnican Party to continue to alienate these voters.
**As far as nukes and nuclear war go, Pussygrabber is an abject idiot, but I don't think that he's suicidal. No vampire wants to die, but wants to continue to suck the blood of its victims for as long as possible.
***Don't get me wrong; as I've written here a million times, it was a colossal fucking mistake for the (so-called) Democrats to make Billary Clinton, (with Pussygrabber) one of the most unpopular candidates for U.S. president in history, their presidential nominee. (As I have noted, I am not a registered Democrat and will not register with the Democratic Party again until and unless it becomes the progressive party that it once was.)
With their heads planted firmly in their rectums, the "Democrats" all pretended that Billary isn't the widely despised, corrupt harpy that she is, and we have them to thank in no tiny part for "President" Pussygrabber.
The so-called Democrats had a winning candidate in Bernie Sanders, but they decided to coronate Repugnican Lite Billary instead because it was "her turn," you see.
We'll see if they learned their lesson. I much doubt that they have.