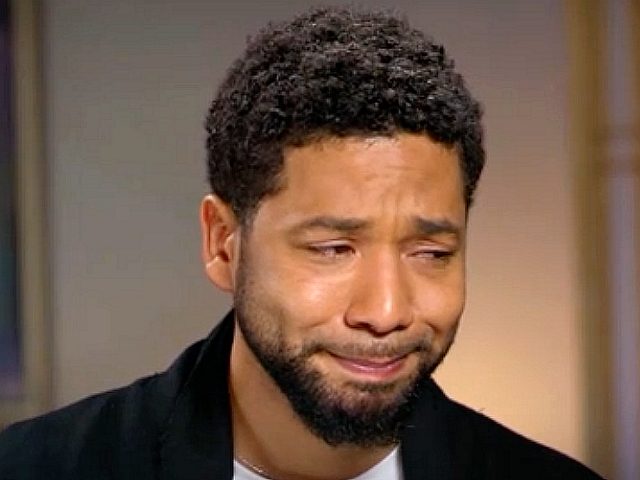 Actor Jussie Smollett cried during his first television interview after allegedly having been the victim of a hate crime on January 29. Meh. He very most likely was crying wolf. (He appears to me to be acting — fairly poorly — in that interview, by the way.)
I've been quiet on the alleged hate crime against TV show "Empire" star Jussie Smollett on January 29 in Chicago.
My inclination is to believe the victim, or at least to give the alleged victim the benefit of the doubt, anyway, but Smollett's story was a bit over the top from the get-go: two male attackers, he claimed, poured bleach on him and put a noose around his neck and yelled, "This is MAGA country!" as well as racist and homophobic slurs.
Smollett initially reported that his attackers wore ski masks, but presumably they were white, since allegedly they had perpetrated a race-based hate crime against him and yelled "This is MAGA country!" (Indeed, in the TV interview mentioned above, by elimination he pretty much claims that his attackers were indeed white, which he apparently could see even though they were wearing ski masks.)
The details of the alleged hate crime against Smollett and its subsequent investigation are convoluted and go back and forth, with ample yes-but-no-but-no-but-yes. (You can read them here and here and in many other places on the Internet.) I won't rehash all of them here.
But CNN reports today:
Two law enforcement sources with knowledge of the investigation tell CNN that Chicago Police believe actor Jussie Smollett paid two men to orchestrate an assault on him that he reported late last month.

The men, who are brothers, were arrested Wednesday but released without charges Friday after Chicago police cited the discovery of "new evidence.

"The sources told CNN the two men are now cooperating fully with law enforcement.

Smollett told authorities he was attacked early January 29 by two men who were "yelling out racial and homophobic slurs." He said one attacker put a rope around his neck and poured an unknown chemical substance on him.

The sources told CNN there are records that show the two brothers purchased the rope found around Smollett's neck at a hardware store in Chicago.

CNN's attempts Saturday to reach both Smollett's representative and attorney were unsuccessful.

Smollett identifies as gay and since 2015 has played the gay character of Jamal on the Fox TV drama "Empire."

According to Chicago Police spokesman Anthony Guglielmi, the actor told detectives he was attacked by two men near the lower entrance of a Loews hotel in Chicago. Police were told the two men yelled "'Empire' fa***t" and "'Empire' n***er'" while striking him.

The day after the incident, police released surveillance images that showed two silhouetted individuals walking down a sidewalk, and police said they were wanted for questioning.

The two men were arrested Wednesday. Police on Friday said the men were being viewed as "potential suspects" and that detectives had "probable cause that they may have been involved in an alleged crime." [Note that that crime was not specified…]

But by Friday night they had been released, Guglielmi said, "due to new evidence as a result of today's investigations."

"And detectives have additional investigative work to complete," he added.

One of the men has appeared on "Empire," Guglielmi said. A police source also told CNN on Friday night that the men had a previous affiliation with Smollett, but did not provide additional details. …
It was reported that Smollett might have made up the attack because he feared that he was about to be written out of "Empire" — and presumably, the show-runners then would be hesitant to do so after he'd been attacked in a hate crime — but the show-runners have denied that Smollett's role ever was in jeopardy. (Of course, for public relations reasons — to keep their target audience — they could be lying about that…)
In any event, if I had to put money on it, for whatever reason, I surmise, Smollett indeed made the whole thing up.
Not only was his initial report over the top — it would be rare for hate-crime attackers, who don't tend to be all that smart or creative, to do all of the things that he alleged — and certainly they would have had to have been stalking him already, since they allegedly came prepared with props (bleach and a noose). And further, somehow they knew exactly when to bring those props with them: when the "Empire" star just happened to be going to Subway for food around 2 a.m.
Really?
Also, would real attackers really call Smollett "'Empire' faggot" and "'Empire' nigger"? Plain-old "faggot" and/or "nigger" I could see, but I rather doubt that they would mention the show in which he stars. Again: over the top. It's bad writing because it beggars belief.
If Smollett actually is found to not have made the whole thing up, then I'd be the first to say so (and update this post accordingly) and offer and apology, but yeah, I very much doubt that Smollett's story, in the end, will be corroborated.
If he lied — and he wouldn't be the first to have lied about having been the victim of a hate crime — of course he has made it worse for those who come after him who actually are the victims of hate crimes, and of course he should be prosecuted for having lied to the police.
And I'll come out and say it: the black community hasn't been big on defending gay people, to put it quite mildly and charitably, so it seems to me that in this case they have responded more to the alleged racist hate crime against Smollett than to the alleged homophobic hate crime against him.
Just sayin': The Smollett case apparently not only says a lot about Smollett and what apparent bullshit story he believed would fly in this age of toxic identity politics, but says a lot about those who were so quick to claim that he had to be telling the truth — before the details of the investigation ever even came out. It's been quite the Rorschach test. (See: confirmation bias.)
P.S. Smollett apparently even fooled "President" Pussygrabber, who called that the alleged attack on Smollett "horrible," adding, "It doesn't get worse." Actually, it does get worse, sometimes a lot worse; Smollett had only superficial (self-inflicted?) skin wounds, no broken bones, no damage to any organs, and he's still very much alive.
On that note, Kamala Harris rather dramatically called Smollett's account "an attempted modern day lynching."
Again, two words: confirmation bias. Harris desperately wants that black base, I know, but she might show some, um, presidential caution before commenting next time. There has been no evidence presented thus far that anyone actually was trying to lynch Smollett, for fuck's sake.
This woman was a prosecutor? Scary…
P.P.S. Cory Booker also called the Smollett account "an attempted modern-day lynching." Of course. Jesus fuck.
I'm not sure who tweeted that bullshit first, Harris or Booker (tweets are given time stamps, but from which time zone[s]?), but it's hard to believe that both would use the exact same phrase without knowledge that the other had done so first.
And, again, to stoke interracial strife before the facts of an alleged incident are even established — again, hardly what I would call presidential.
P.P.P.S. It's being reported that Smollett has hired Michael Cohen's criminal defense attorney.
To be abundantly fair, hiring a criminal defense attorney doesn't necessarily mean that you are guilty of a crime, but, um…