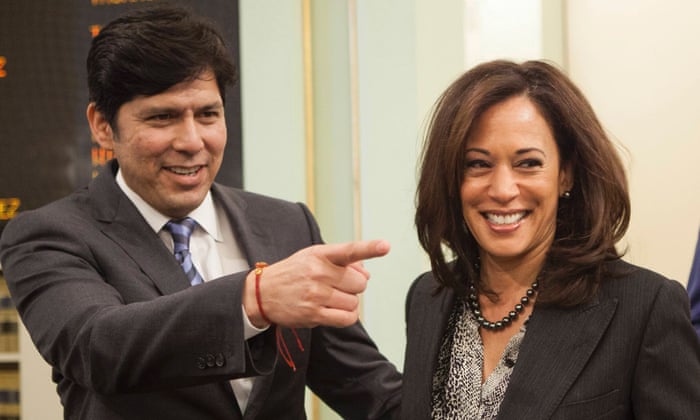 Reuters photo
Hopefully, come January 2019, these will be the two U.S. senators for the great state of California, the vanguard of national change that scares the unholy living shit out of the mouth-breathing, knuckle-dragging, MAGA-cap-wearing teatards among us.
Wow.
Last night the leaders of the California Democratic Party "took a step to the left, endorsing liberal state lawmaker Kevin de León for [U.S.] Senate in a stinging rebuke of Democratic [U.S.] Sen. Dianne Feinstein," reports The Los Angeles Times.
The L.A. Times continues:
… The endorsement was an embarrassment for Feinstein, who is running for a fifth full [six-year] term, and indicates that Democratic activists in California have soured on her reputation for pragmatism and deference to bipartisanship as ["President" Pussygrabber] and a Republican-led Congress are attacking Democratic priorities on immigration, healthcare and environmental protections.
De León, a former state Senate leader from Los Angeles, received 65 percent of the vote of about 330 members of the state party's executive board — more than the 60 percent needed to secure the endorsement. Feinstein, who pleaded with party leaders meeting in Oakland this weekend not to endorse any candidate, received 7 percent, and 28 percent voted for "no endorsement." …
The fact that Cryptkeeper Feinstein had lobbied the state party to make no endorsement at all — because she was fearful of losing it (recall that in February, De León came just short of winning the state party's endorsement) — speaks volumes of her rotten and rotting character. I'm sure that if she had thought she would win the endorsement, she would have had no problem with the endorsement vote at all, because she is a corrupt, craven, self-serving, anti-democratic (and, ironically, anti-Democratic) old bat.
The Times news article continues:
… "We have presented Californians with the first real alternative to the worn-out Washington playbook in a quarter-century," De León said in a statement shortly after the endorsement was announced.
It's not clear that the endorsement will have a significant effect on the general election. Feinstein crushed De León in the June primary, winning every county and finishing in first place with 44 percent of the overall vote. De León finished far behind with 12 percent, which was enough for a second-place finish and a ticket to the November election under the state's top-two primary system.
The endorsement can come with hundreds of thousands of dollars in campaign money, which the De León campaign will have to help raise, as well as party volunteers and political organizing assistance. De León needs that support to increase his odds of victory in November. Feinstein had $7 million in campaign cash socked away as of May, 10 times what De León had. …
It is true that in the June 5 California primary election, Cryptkeeper, with her superior name recognition, garnered 44.2 percent of the vote and De León garnered 12.1 percent, but there were more than 30 candidates for U.S. Senate on the ballot, at least 15 of whom garnered around 1 percent or more of the vote.
We will see how the votes for these many other candidates who were on the June 5 ballot resettle in November.
It's true that Cryptkeeper has an advantage. She's been around since dirt, so she's well-known in California, and she is a multi-millionaire, so money is no object for her.
And, because she's Repugnican Lite — among other things, she voted for the Vietraq War and believes that it's A-OK for the federal government to perpetrate mass spying upon its own citizens, contrary to the U.S. Constitution; actually wanted to make flag-burning a crime, contrary to the U.S. Constitution; just this year for some reason flipped her position on the death penalty; and in the Senate she votes with "President" Pussygrabber's agenda 26 percent of the time* — she might win in November if she garners enough of the center-right vote.
California's Repugnican voters might see Cryptkeeper, quite correctly, as the more Repugnican of their two choices. That said, Cryptkeeper's political centerpiece always has been gun control — after all, the 1978 assassinations of Harvey Milk and George Moscone launched her political career — and I think that it would be difficult for many if not most of California's Repugnicans to cast a vote for her, knowing how much they want to keep their home arsenals for "protection" against the supposed endless parades of freedom-hating bogeymen who are out to get them.
Kevin de León made it into the top two after the June 5 primary — and that's all that he had to do in that election to make it to November's election — and now that he has the formal support of the California Democratic Party, De León has a real shot at unseating Cryptkeeper, who can't count on any help from the state party, to my knowledge.
Even if Cryptkeeper ekes out another win, she will be politically weaker than she ever has been, and no doubt she'll get no more than one more term, not just because of her advanced age (she's 85 years old) but also because of her rapidly declining political capital here in California. (If she were so fucking beloved here, she would have garnered a lot more than 44.2 percent in the June 5 primary — after all, she has been a U.S. senator "for" California since 1992.)
I'm proud that the California Democratic Party endorsed Kevin de León last night. It's a step in the right direction for a state that in June 2016 voted for Billary Clinton over Bernie Sanders, 53.1 percent to 46 percent (still pretty close for someone who was supposed to have been as beloved as was Billary!).
Thing is, political change is a long, hard slog. Corrupt, craven, self-serving sellouts like Cryptkeeper Feinstein and Billary Clinton don't just give up their power. We, the people, have to take it from them, have to relieve them of their self-imposed pressure to act like Repugnicans for their own (real and/or perceived) personal and political gain.
Often, we don't win the first time.
Case in point: Bernie Sanders started running for office in the 1970s, running for governor of Vermont and for the U.S. Senate for Vermont — and losing badly — and he didn't win an election until he lowered his sights and became mayor of Burlington, Vermont, by a mere 10 votes in 1981.
Bernie finally made it to the U.S. House of Representatives in 1990, and then made it to the U.S. Senate in 2006. And then, as I've noted many times, he came impressively close to Billary "Crown Me Already" Clinton in 2016 when he ran for the Democratic Party presidential nomination, and had it been a fair process, he probably would have won the nomination.
Bernie's electoral history suggests that he persists and that eventually he wins.
That's what all of us progressives must do.
Even if Kevin de León doesn't win in November — at this point, now that he has the state party's endorsement, I give him at least about a 40-60 chance of winning — he has accomplished something significant, something to build upon.
P.S. I support Kevin de León primarily because he's progressive (he's not perfect, but he's progressive), but it's an added bonus that if he were elected in November, the largest racial/ethnic group in California, Latinos, who outnumber whites in the state, finally would be represented in the U.S. Senate.
Latinos have been underrepresented in California and elsewhere for years and years.