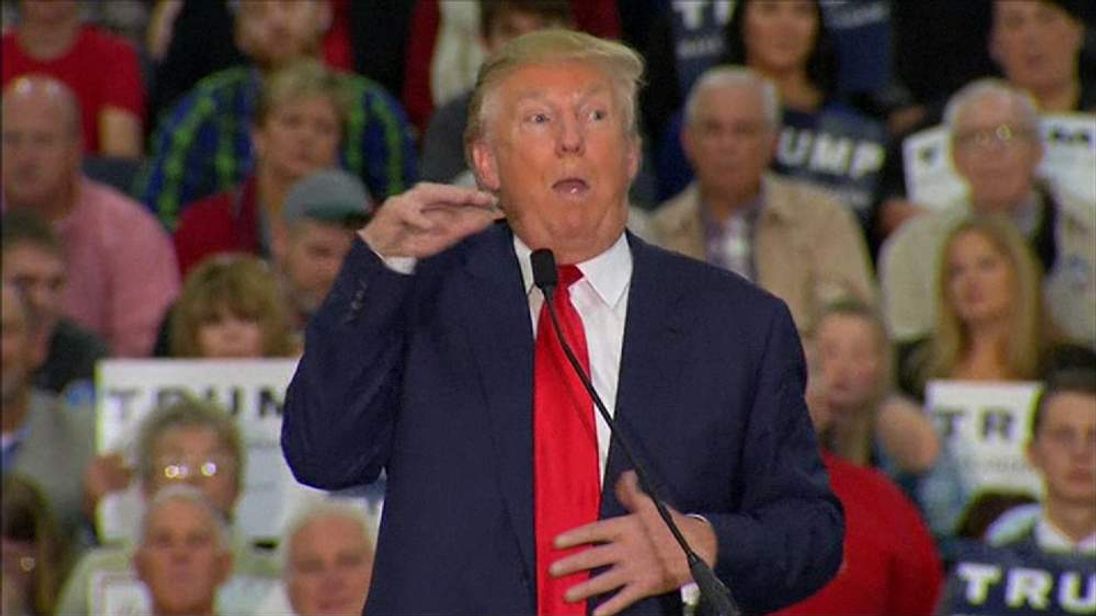 In one of his many, many fine, presidential moments, "President" Pussygrabber mocks a disabled man during one of his KKK rallies in November 2015. I remain such a proud American on this President's Day.
Ah, President's Day.
It's hard to celebrate the holiday when for the past year-plus it has felt like my nation has had no president at all. It certainly hasn't had a legitimate one, not since noon on January 20, 2017.*
"President" Pussygrabber's approval rating, however, probably will make him a one-term president, if he makes it through even this term.**
Earlier this month Gallup had Pussygrabber's approval rating at a whopping 40 percent, but right now has him back down into the high 30s (at 37 percent, to be exact).
Indeed, during most of his hostile occupation of the Oval Office, Pussygrabber's approval rating, per Gallup, has remained stuck in the 30s, only occasionally breaking into the low 40s.
The highest that "President" Pussygrabber ever garnered in Gallup's regular presidential-approval polling was 46 percent — a high that he hit shortly after his inauguration and that he never matched again.
In December, Vox.com reported that Pussygrabber's December approval rating in the mid-30s was the worst presidential approval rating at that point in a president's administration since long before I was born:
(Keep in mind that Gee Dubya's December 2001 approval rating was so high only because of the events of Sept. 11, 2001. Americans rallied behind him because they were scared and because they wanted revenge for 9/11.)
I might be more fearful of Pussygrabber's fascism if his level of popular support weren't so low. I don't see Pussygrabber becoming Hitler 2.0 when he is lucky to hit even 40 percent in a nationwide approval poll (in no small part because Pussygrabber is an incredibly bumbling Hitler wannabe).
That said, this nation has serious problems and we couldn't afford yet another lost year, but that's what 2017 was, and the only thing that will prevent 2018 from being even yet another lost year entirely is numerous electoral victories this coming November; minimally, we need to take back the U.S. House of Representatives.
Finally, as it's President's Day, it's appropriate to note that the 2018 Presidents and Executive Politics Presidential Greatness Survey (a survey "based on responses from 170 current and recent members of the Presidents and Executive Politics section of the American Political Science Association," per Politico), which appropriately was released today, lists "President" Pussygrabber dead last among all 44 presidents.***
Yup.
The "presidential greatness" survey puts Abraham Lincoln at No. 1, George Washington at No. 2, and Franklin Delano Roosevelt at No. 3. (I put Lincoln and FDR in the top three, to be sure, but I'm not sure on Washington; I have the feeling that it largely if not mostly was because he was the first president that he's so well-regarded.)
In case you were wondering, Barack Obama came in at No. 8 in the survey; he skyrocketed 10 points since the survey was done last, in 2014, when he came in at No. 18. He now sits at one spot above Ronald Reagan, who is at No. 9. (That's gotta hurt the wingnuts…)
I long have surmised that because Obama was sandwiched between the two worst "presidents" of my lifetime (neither of whom even won the fucking popular vote), Obama, by comparison, would look significantly better than he actually was, at least in the short term.
We'll see how Obama is regarded in the long term (my prediction is that he'll drop in the presidential rankings over the coming many years), and yes, to be fair, Pussygrabber has had only one full year in office on which to be evaluated, but no sane person could believe that it's going to get any significantly better.
—
*I have been critical of Barack Obama, for whom I voted in 2008 but not in 2012 because of his broken campaign promises (to name just one of them, in 2007 he had promised to support labor unions in person but he didn't show up once in Wisconsin in 2011 when Repugnican Gov. Scott Walker & Co. decimated Wisconsin's public-sector unions).
Despite his shortcomings, however, Obama at least won the popular vote in 2008 and in 2012. George W. Bush lost it in 2000 and thus could not legitimately have been "re"-elected in 2004, and, of course, "President" Pussygrabber lost the popular vote — bigly — in 2016, and therefore he could not legitimately be "re"-elected either, since he never legitimately was elected in the first place (even all of that help from Russia aside).
Compared to Pussygrabber, Obama indeed was the second coming of Abraham Lincoln, as he pretty much had portrayed himself to be when he announced his 2008 campaign for president in Springfield, Ill.
It seems to me that the view of Obama having been a great president comes at least as much from how abysmally bad Pussygrabber has been as it comes from whatever actual greatness Obama as president possessed.
**My best guess is that Pussygrabber will decline to run for "re"-election (especially if impeachment actually looks possible right around that time).
I surmise that Pussygrabber had thought that the office would bring him much more adulation than it actually has, and also, I surmise that because he was quite used to being the infallible, unchallengeable boy-emperor of The Trump Organization, he has been deeply disappointed that he couldn't simply replicate that model as "president" of the United States.
Why serve in heaven when you can reign in hell? Again, I'd be surprised if Pussygrabber truly even wanted a second term.
***Grover Cleveland was president twice in non-consecutive terms. So there have been a total of 45 presidential terms, but a total of 44 individuals have been president.