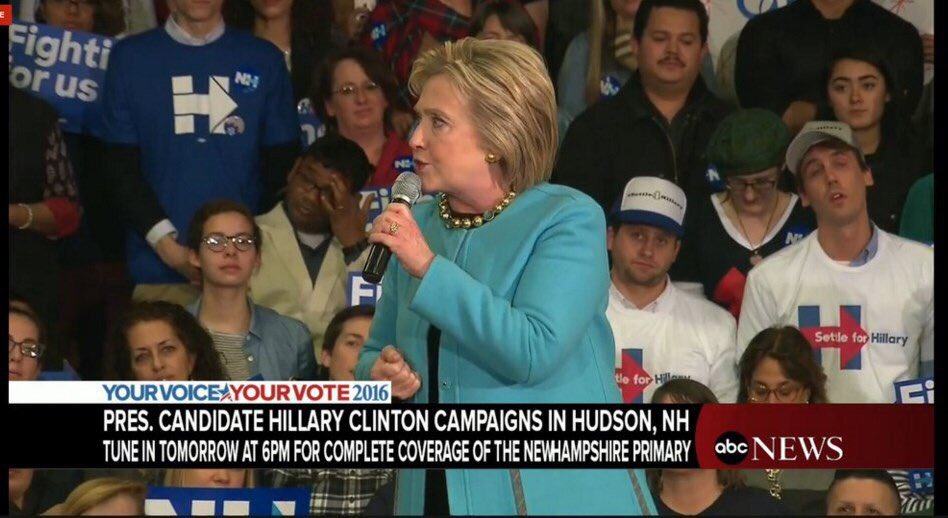 Team Biden's message in 2020 is a carbon copy of Team Billary's message in 2016: We must settle for Biden because he's the only one who can beat Pussygrabber. That's entirely untrue, and because it's untrue, it's a campaign centerpiece that probably will doom Biden's quest for the presidency for the third time.
In January 2016, two pranksters attended a Billary for president campaign event at which they wore T-shirts emblazoned with the slogan "Settle for Hillary" (see the wonderful video grab above).
The jokesters apparently were responding to the fact that although Queen Billary widely stupidly was viewed as the front-runner and the only Democratic Party candidate who could win the White House, no one seemed to be excited about her — but was settling for her.
Today, we have Jill Biden publicly saying this about her husband's third presidential campaign:
"You may like another candidate better, but you have to look at who is going to win. … Your candidate might be better on, I don't know, health care, than Joe is, but you've got to look at who's going to win this election. And maybe you have to swallow a little bit and say, 'Okay, I sort of personally like so-and-so better.' But your bottom line has to be that we have to beat Trump."
"Swallow it for Joe" — should that be on the next T-shirt?
"As the Democratic primary campaign trundles on, Biden is winning polite applause from audiences that respect him but clearly are not as fired up by his presence as are crowds for other candidates," notes The Washington Post, adding, "He has made verbal miscues nearly daily as his more disciplined opponents hew closely to their chosen messages."
Reports The New York Times today (links are the Times'):
PROLE, Iowa — Joseph R. Biden Jr. is coasting in the national polls. Surveys show him ahead of his Democratic rivals in hypothetical match-ups against President Trump. He has maintained a lead in Iowa all summer, despite facing months of controversies over his record and his campaign missteps.

But less than two weeks before Labor Day, when presidential campaigns traditionally kick into high gear, there are signs of a disconnect between his relatively rosy poll numbers and excitement for his campaign on the ground here, in the state that begins the presidential nominating process.

In conversations with county chairs, party strategists and dozens of voters this week at Biden's events, many Democrats in Iowa described a case for Biden, the former vice president, that reflected shades of the one his wife, Jill Biden, bluntly sketched out on Monday. "You may like another candidate better, but you have to look at who is going to win," she said, citing Biden's consistent lead in early surveys.

The first ad of Biden's campaign, released this week in Iowa, flashed some of his positive poll results against Trump on screen, and voter after voter cited those numbers in outlining their support for him, saying that defeating the president was their most urgent priority. …
So hold your nose and vote for Joe Biden (out of the fear that he's the best that we can do to rid ourselves of Pussygrabber). Not exactly a compelling campaign message, any more than was Settle for Billary. And we see how it turned out in November 2016 when we were told that the level of enthusiasm for the Democratic presidential candidate somehow didn't fucking matter.
And no, Joe Biden is not the only candidate who can beat "President" Pussygrabber. Despite such lies as that Bernie Sanders can't win non-white votes — he currently is Latino voters' No. 1 choice and is black voters' second choice (Kamala Harris is their third choice) — and that the "s" word (socialism) is fatal within the general electorate, most recent (and reputable) nationwide match-up polls show Bernie beating Pussygrabber by anywhere from 5 percentage points to 9 percentage points (not one shows him losing to Pussygrabber).
So Team Biden's "argument" that he's the only one who can beat Pussygrabber holds as much water as the old "argument" that only Billary could beat Pussygrabber. (Indeed, match-up polls at the time had Bernie beating Pussygrabber by a significantly larger margin than Billary did.)
No, you are not stuck with the centrist, corporatist sellout Joe Biden. Only if you're not paying attention and easily can be duped would you believe that to be the case.