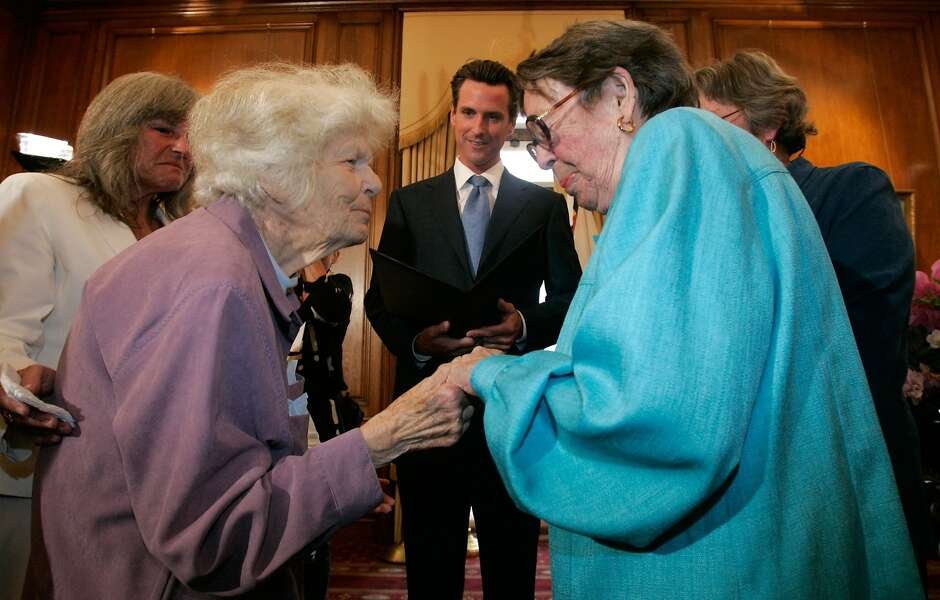 Gavin Newsom, then still mayor of San Francisco, is pictured above marrying lesbian activists Del Martin (left) and Phyllis Lyon (right) at San Francisco City Hall when same-sex marriage briefly was legal in California in 2008 (after a California Supreme Court ruling) before being shot down again by California Proposition H8 (and before being made legal again by the U.S. Supreme Court in 2015). Martin, who had been with Lyon for more than 50 years before they were married in San Francisco in 2004 before having that marriage declared null and void, died two months after the photo above was taken. Then, as he is now, Newsom was ahead of his time.
"You have heard that it was said, 'An eye for an eye, and a tooth for a tooth.'

"But I tell you, don't resist him who is evil; but whoever strikes you on your right cheek, turn to him the other also."

— Jesus Christ, Matthew 5:38 and 5:39
Oh, to be surrounded by so many "Christians"!
These "Christians" (and some ignorant, hateful others) are pissed off that recently elected California Gov. Gavin Newsom this past week announced that as long as he's governor — he just started his first four-year term and probably will get another term — no one on California's death row (there are more than 700 of them) will be executed.
He doesn't have the power to eliminate the death penalty in the state altogether, but as governor he does have the power to suspend executions.
I expect that the death penalty will be in abolished in California before Newsom is out of office.
Why?
Let's back up a little bit: It's much reported that Newsom has suspended state executions against the will of California voters. That's pretty much bullshit.
California voters last weighed in on the death penalty in November 2016, but the statewide ballot measure that would have repealed the death penalty that the voters shot down didn't lose overwhelmingly. It was 53 percent don't repeal to 47 percent repeal.
Another death-penalty-related ballot measure on the same ballot, a really mean-spirited one, sped up the process in which the state should commit executions (because When the penalty is your life, hey, let's get this over with already! What could go wrong?), but that one passed by only 51 percent to 49 percent.
Newsom isn't up for re-election until November 2022. By then, I'm confident, the needle will have moved to majority opposition to the death penalty in the state of California.
And Newsom — who moved the needle on same-sex marriage when, as mayor of San Francisco, he declared same-sex marriage legal in his jurisdiction in 2004* — is moving that needle.
Newsom was elected governor over his Repugnican opponent in November 2018 by 62 percent to 38 percent, and in this solidly blue state he has the political capital with which to move the needle.
Those who have been iffy on the death penalty but who support Newsom and the Democratic Party are going to find their support for Newsom and the Democratic Party to be more important than any tepid support that they might have had for the death penalty.
And sure, let's talk about the will of the California voters. Again, only a slim majority of them backed the death penalty — more than two years ago. A super-majority of them voted for Newsom about four months ago.
The bloodthirsty California wingnuts (a minority in the state, thank Goddess), as usual, don't even make any fucking sense on this issue. The last person executed in California was way back in 2006, under then-Gov. Arnold "Baby Daddy" Schwarzenegger (a Repugnican, of course), and the executed was a legally blind and diabetic 76-year-old man in a wheelchair. (Woo hoo! "Justice"!)
For the past 13 years there have been no executions in California, but now it's "important" that we crank up the lethal injection machine?
It's not that I don't have sympathy for the survivors of those who have been murdered by stone-cold killers (the term that the wingnuts love to use). If a loved one of mine were murdered, no, of course I wouldn't be happy. I might come to a place of forgiveness for the murderer, but probably not initially, during the shock of the event.
But the prime objective is to prevent the convicted murderer from ever murdering again, and keeping him or her in prison for life accomplishes that objective.
For the state to say, "Killing is wrong, so we're going to kill you because you killed" not only is anti-Christian (see Jesus Christ's straightforward rejection of revenge above), but it defies logic and reason. Acting as much as the animal as the animal is not civilized.
Even if you are indifferent to whether a convicted murderer is executed or is imprisoned for life, know that the costs to the taxpayer surrounding the death penalty are significantly higher than simply allowing the convicted murderer to die in prison, which itself is a pretty fucking harsh penalty.
And don't get me wrong on Gavin Newsom. His style always has rubbed me the wrong way; he's too slick for my tastes. (And I am disappointed that he has endorsed fellow Californian Kamala Harris, a "progressive" come lately, for president, which was premature at best.)
I did vote for Newsom in November, but that largely was because in California's top-two system, I wanted the Democratic gubernatorial candidate to have every possible vote over his God-awful (redundant) Repugnican candidate. (And I am registered not as a Democrat, but as an independent — because I'm pretty left of center and that's not where nearly enough so-called "Democrats" are.)
But while he's not my style, Newsom is a leader, and I've long defined a leader as someone who doesn't just follow along where the majority already is, but who pushes the majority to where they need to go.
By that measure, Gavin Newsom is a leader.**
He led on same-sex marriage, and he's leading on the abolition of the death penalty, not just in California, but nationally.
P.S. I just saw this paragraph in a Politico story:
Mark Baldassare, head of the Public Policy Institute of California, says that his organization's polling over the years has consistently shown that around 55 percent of Californians back the idea of life imprisonment over the death penalty. But "that can change'' during high-profile ballot campaigns, when voters are often reminded of specific heinous crimes, boosting their support of the death penalty, he warns.
Indeed, the people of California apparently already are with Newsom on this, but yes, it's easy to exploit the issue by appealing to fear and emotion over logic and reason.
—
*As mayor Newsom did not have the authority to declare same-sex marriage legal in his jurisdiction, and the California Supreme Court later shot him (and those marriages) down.
But, of course, with the U.S. Supreme Court ruling same-sex marriage the law of the land in 2015, history has absolved Newsom, who was ahead of history.
**As is Bernie Sanders, who has redefined the positions that a Democrat (or a Democrat in name only…) must take if he or she wants the 2020 Democratic Party presidential nomination. Sanders has moved the party to the left quite significantly (something that even one of his detractors had to admit).
Of course, as I've written before, I prefer the one who moved the ideas into the mainstream, not anyone who only has followed along and who, if elected, probably wouldn't actually try very hard to enact these ideas, since he or she didn't generate them in the first fucking place.