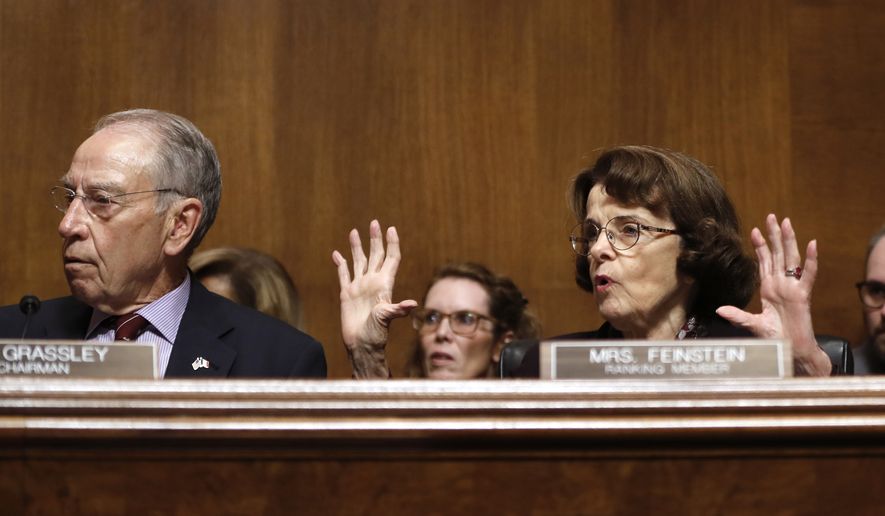 Associated Press photo
Gee, is that Dianne "Cryptkeeper" Feinstein throwing her hands up in surrender, as she always does to the Repugnicans?
U.S. Sen. Dianne Feinstein loves to support the Repugnican agenda, from her vote for "President" George W. Bush's illegal, immoral, unjust and unprovoked Vietraq War to her utter failure to be effective in preventing the installment of drunkard and sex criminal Brett Kavanaugh to the U.S. Supreme Court.
She used the Kavanaugh fight as her excuse not to debate her opponent, actual Democrat Kevin de León, thus far. She was too busy trying to save the republic, she said (I paraphrase).
What's her fucking excuse now?
There were many failures that led to Kavanaugh's ascension, including DINO Joe Manchin of West Virginia, the only "Democrat" who voted for Kavanaugh and who should fucking switch to the Repugnican Party already, and the conscience-free Susan Collins of Maine, who, as Bill Maher put it on his show on Friday, comes from a state that is populated by only Stephen King, two lobsters and a bear yet has tremendous power as a Repugnican senator who acts like she might do the right thing for once, but, like Lucy with the football, always does the evil thing in the end. (Ditto for outgoing Arizona Sen. Jeff Flake, who also talks about opposing his evil party but never actually does because he's a fucking pussy. I hope that Democrat Kyrsten Sinema wins his seat in November.)
But Feinstein is the top "Democrat" on the Senate Judiciary Committee and all along during the Kavanaugh confirmation hearings she put "propriety" above what is at stake, such as when she criticized protesters during the hearings, and in the end, she was utterly ineffective in blocking Kavanaugh, as was entirely predictable.
After all, Feinstein is a multi-millionaire, one of the richest members of the U.S. Senate, and she'll never need an abortion or otherwise have to worry about being disempowered by the right-wing, white-male-dominated U.S. Supreme Court, so what's the problem?
Two polls taken in September show Kevin de León within about 10 percentage points of Feinstein. Hopefully, the Kavanaugh debacle will induce the undecideds, which one of the aforementioned two September polls put at 8 percent, to vote for De León.
Feinstein still has the advantage, but De León still has a shot.
We need true Democrats in D.C. who actually fight for us, the people.
The aristocratic Dianne Feinstein never has been one of those.