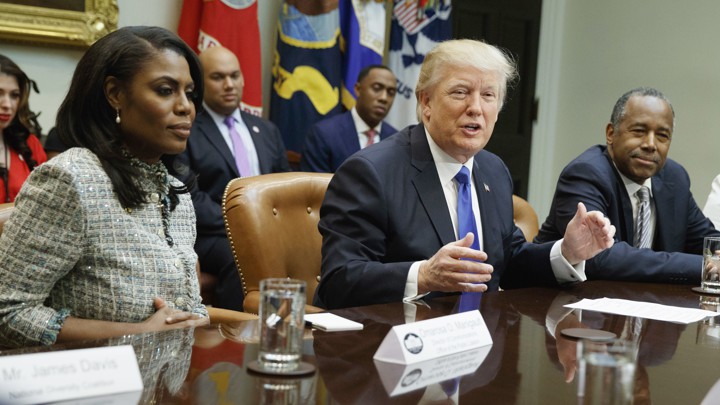 Associated Press photo
We already know that "President" Pussygrabber, among many other things, is racist, such as by saving his "low-IQ" and similar slams primarily if not only for black people, so how would proof of his ever having uttered "the 'n'-word" actually change a fucking thing?
I find it pathetic and juvenile that after all that "President" Pussygrabber has done and said — including having savaged Mexicans in his "presidential" campaign announcement and having bragged about having "grab[bed]" women "by the pussy," and then "won" the presidential election with almost 3 million fewer votes than his opponent, and then having issued unconstitutional executive orders, including a ban on Muslims from entering the country and the defunding of "sanctuary cities," before January 2017 was even over — millions of Americans apparently view as the one silver bullet that would or at least should finally take Pussygrabber down is that if a recording of him having uttered the word "nigger" ever emerges.
We're worried about a single word, which, if ever dare uttered (by a non-black person, that is), should be the end of one's life; it should be very much like death (I mean, at least social death if, hell, not even physical death as well). I live in a nation of fucking imbeciles. This is Dark-Ages-level bullshit, replete with magic no-no words.
Don't get me wrong; I oppose hate speech. No one in the workplace or in public should have to deal with a hateful epithet hurled his or her way. Such epithets are a level of terrorism; they are meant to frighten and to disempower their targets, which is why they should not be tolerated.
But let's get fucking real. I have a black co-worker now who not long ago enough used the word "cracker" in anger and in hatred (not against me, but I was offended to have had to hear the racist epithet in my workplace nonetheless), and I didn't bother to report it because I knew that with her constant pre-emptive bogus claims of racial victimhood meant to scare "management" from ever disciplining her meaningfully for anything, nothing would have been done had I reported it. (Indeed, I would have been branded as a "troublemaker," I am confident.)
This same co-worker, when I once asserted that gay rights are civil rights too, responded, "You can't compare race to sin." Lovely. (This same co-worker also, when she wasn't repeatedly equating homosexuality to pedophilia, repeatedly incredibly judgmentally and incorrectly referred to being gay as a "lifestyle choice" [that it's the "wrong" "choice" is understood, you see]. It's interesting to see which "nice" words "nice" people can use to express viciously hateful sentiments.)
In another job, a black co-worker used the word "faggot" (in hatred) in my presence, and that's another case where had I reported it, nothing would have been done, and when I was on a public bus once and simply asked two young black punks who were blocking the aisle to move so that I could get past them and exit the bus, one of them felt the need to call me a "queer."
A black client once hatefully and angrily called me "white boy" when I refused a request of hers that could have gotten me fired from my job.
A leader within the black community with whom I once corresponded years ago actually wrote in her response to me that being gay might be a "birth defect."
I've never called a black person a "nigger."
So this notion that blacks only ever are victims, that they are incapable of uttering hate speech or committing hate crimes themselves, demonstrably is bullshit, and their bogus claims of this only harms their credibility even further.
Let me point you to two recent examples of blacks blatantly committing hate crimes: the 30-year-old black woman arrested in Los Angeles for having savagely attacked a 91-year-old Mexican man with a piece of concrete block, reportedly telling him to "go back to [his] country," and the 18-year-old black man arrested in Manteca, California, for having savagely knocked down, kicked and spat on a 71-year-old Sikh man. Both elderly victims were taken to the hospital; the 91-year-old sustained fractures.
Guess what? These actually are worse crimes than merely uttering the word "nigger"! (Who knew?)
And, as I already have indicated, there are words that individually are innocent enough, but when strung together are just as ugly as is — or even uglier than is — "nigger." It's just that, individually, they're not taboo words. So in this juvenile nation of simpletons, you may express any hateful notion that you please, as long as you don't use certain magical no-no words, first and foremost among them "the 'n'-word," which is so taboo that we must call it "the 'n'-word."
Take Faux "News" "talent" Laura Ingraham's recent on-air rant:
In some parts of the country, it does seem like the America we know and love doesn't exist anymore. Massive demographic changes have been foisted upon the American people. And they're changes that none of us ever voted for and most of us don't like. From Virginia to California, we see stark examples of how radically in some ways the country has changed. Now much of this is related to both illegal, and in some cases, legal immigration that, of course, progressives love.
I could argue that this racist, xenophobic rant is even worse than the word "nigger" because it apparently scoops up even more groups of already-long-oppressed people in its wide net of hatred.
(While I'm quoting she-Nazi Ingraham, I must note that demographic changes are not "foisted" upon anyone. For the very most part, they just naturally happen. [Well, of course, the Native Americans could argue persuasively that "massive demographic changes have been foisted" upon them...] And how, exactly, would we "vote" on demographic change? Would we vote certain groups of people off of the island? Would we kill brown-skinned babies, a la King Herod? And do we not get to vote for the federal and state lawmakers who make our laws, including immigration law? Do we not get our say that way?)
Again, to be clear, I oppose hate speech in the workplace or in public spaces. I believe that at work and in public, we have the right not to have bigoted, hateful, ignorant invective hurled at us for our real or perceived sex or gender expression, race (yes, even if we are — gasp! — white), sexual orientation, ethnicity, nationality, religion, age, etc. Such invective is meant to disempower us, and we deserve an environment in which we are not disempowered, but are free to do as well as we can do and, to borrow a cheesy line from the U.S. Army, be all that we can be, as long as we do not harm others.
What is said in private, however, is a different matter. I'm still a staunch defender of privacy rights. (See my August 2014 piece on the infamous Donald Sterling case, titled "Privacy Rights Scrapped for One Old Racist's Scalp.") In their own homes and in other private settings (settings in which they have a reasonable expectation of privacy), people should be able to think and say as they please.
Often people need to work shit out in private, even if that includes language that they wouldn't use in public or at work. And there probably literally is not one American adult who would be OK with anything and everything that he or she ever said in private being revealed to the entire American public, so those who are fucking hypocrites on this point need to shut the fuck up and check themselves.
Perhaps the larger issue, however, is that there apparently is this widespread magical belief that if it's definitively revealed that "President" Pussygrabber ever uttered the single word "nigger" (in any setting, private or public), then it's all over for him. Everything else that he has done, including his having trashed the United States of America with a smirking Russian dictator Vladimir Putin standing right next to him, isn't going to remove him from the Oval Office, but his ever having uttered the single word "nigger" would.
Just: Wow. I live in a nation of fucking infants.
Slate.com even ran a lengthy piece titled "If He Said It: How the Country Would React, Day by Day, if a Trump N-word Tape Came to Light." The time-line piece, which apparently is partly serious and partly comedic, ends thusly (spoiler alert!): "November 2020: Trump wins re-election with the support of 0 percent of black voters and 60 percent of the white electorate."
That sounds about right. I mean, that's along the lines of what would happen if we make his ever having uttered "the 'n'-word" the one and only true absolutely unpardonable crime that Pussygrabber ever committed.
Most Americans, I surmise, already assume that of course Pussygrabber has uttered "the 'n'-word" at some place at some time, and that there may or may not be a recording of this.
If the Democrats think that simple-minded, playground-level identity politics can save them in 2020 like it didn't in 2016, then 2020 indeed will be a repeat of 2016.
P.S. I recommend Ted Rall's piece in which he compares Pussygrabber to Kaposi's sarcoma — that is, just as Kaposi's sarcoma is a symptom of the underlying, much worse disease of AIDS, Pussygrabber is a symptom of the underlying, much worse disease that grips the American "democracy."
Just as removing one Kaposi's sarcoma (or even all of them) wouldn't save the life of someone with AIDS, removing Pussygrabber from office — while a laudable goal — would not cure the underlying disease, for which all of us, to some degree, are responsible.