Updated below (on Monday, August 10, 2015)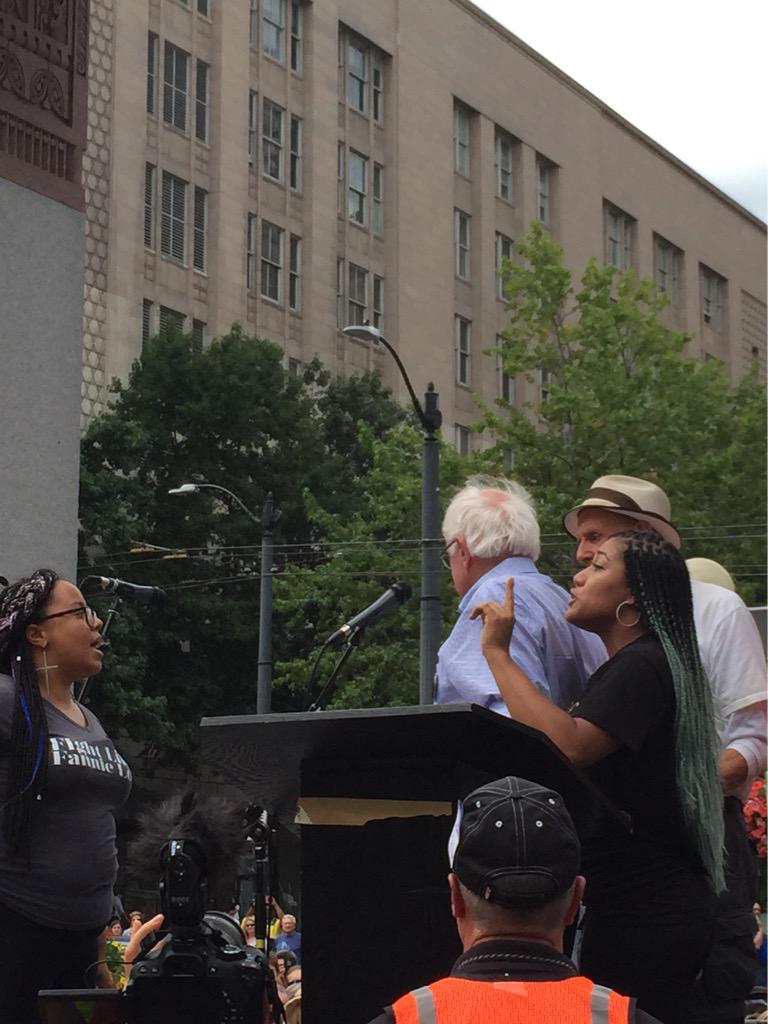 Photo Tweeted by Dan Merica, CNN
Incredibly selfish "Black Lives Matter" slacktivists refuse to allow Bernie Sanders speak before a crowd of thousands at a city park in Seattle, Washington, today. Fuck political correctness — now that this bullshit has happened twice (the first time was last month in Phoenix), Sanders needs to have significant security at his future events, and disruptors need to be removed immediately, because those who gather for events have the First-Amendment right not to have their gatherings shut down by selfish, stupid members of special-interest groups.
So thousands of people gathered at a city park in Seattle, Washington, today, to hear democratic socialist presidential candidate Bernie Sanders speak.
But what those thousands of people wanted was not at all important to the handful of "Black Lives Matter" slacktivists who, according to The Huffington Post, forced Sanders to leave the gathering before he meaningfully could speak to the crowd.
I call these ignoramuses "slacktivists" because think about it: They are not taking on the powers that be, those who are the real problem, but they are targeting the very one presidential candidate who, being a pacifist, is the least likely to give them any resistance (thus, his public appearances — thus far, anyway — are pretty easy for these slacktivists to disrupt and to commandeer), and who probably is the one who is the most on their side.
Serious political activism would necessitate attacking those who actually are the problem, but you won't see these "Black Lives Matter" morons interrupting, say, law-enforcement or Repugnican Tea Party gatherings, will you?
No, these are fucking geniuses: Attack your strongest ally! That's always a political winner!
What if we LGBT individuals had commandeered black-rights gatherings after 70 percent of California's black voters hatefully voted for anti-same-sex-marriage Proposition H8, claiming that Gay Lives Matter? How well would that have gone over? Um, yeah.
The issue is not whether or not the "Black Lives Matter" slacktivists have a point. Of course they do. They have many points. Unarmed black Americans continue to be slaughtered by mostly white cops (and it is no consolation that Sandra Bland was pulled over by a light-skinned Latino cop) at a much higher rate than are unarmed white Americans. This is a fucking problem, as is the crazy-disproportionate incarceration of non-white Americans (on top of over-incarceration in general). The so-called "criminal" "justice" system indeed needs a major overhaul.
None of those facts here are in dispute.
But the tactics of the "Black Lives Matter" slacktivists are sorry-ass. Bernie Sanders — Bernie Fucking Sanders — thus far has been their main public target when he is the one candidate for U.S. president who is the most and the best positioned to help them.
Democrat in name only Billary Clinton talks a good game, but hers is a record of talking (and of holding titles), not of actually doing anything.
And on the Repugnican Tea Party side? Would a President Ben Carson help the "Black Lives Matter" slacktivists? No, sorry — he calls them "silly" and "divisive."
By all means, "Black Lives Matter" activists need to be in dialogue with all of the candidates for the 2016 Democratic Party presidential nomination, but they wouldn't dare to even try to disrupt a Billary Clinton speech or public appearance.
That's because Team Billary keeps quite-tight control of her public appearances — something that, unfortunately, Team Bernie is going to have to do from now on, now that "Black Lives Matter" morons have commandeered two of his public appearances.
Again, these tactically challenged fucktards have the right to have their political cause, but they don't have the right to shut down public gatherings — to hijack them, to try to force their own narrow political agenda down the throats of those who have taken the time, energy and expense to assemble not to hear them speak, but to hear someone else speak.
I would remind the "Black Lives Matter" terrorists — yes, terrorism, broadly defined, is using the intimidation of others, or at least trying to use the intimidation of others, to advance your own political agenda, and that's what the "Black Lives Matter" slacktivists are doing when they shut down public gatherings — that the First Amendment to the U.S. Constitution reads:
Congress shall make no law respecting an establishment of religion, or prohibiting the free exercise thereof; or abridging the freedom of speech, or of the press; or the right of the people peaceably to assemble, and to petition the Government for a redress of grievances.
If the U.S. government may not infringe upon "the right of the people peaceably to assemble," what right do the "Black Lives Matter" terrorists have to infringe upon that right?*
Team Bernie needs to do what Team Billary does: Have tight security at public gatherings and ensure that no fringe groups ruin the gatherings for everyone.
It's a progressive trait to eschew policing like that, but sometimes policing is necessary, lest chaos ensue. In the case of the last two shutdowns of Bernie Sanders' public speeches by "Black Lives Matter" fucktards, I rest my case. The "Black Lives Matter" assholes make such policing necessary.
The "Black Lives Matter" terrorists apparently calculate that we white and other non-black progressives will be too intimidated, lest we very predictably slanderously and/or libelously be labeled by them as "racist," to call them on their shit; therefore, these terrorists are to be allowed to do as they please, lest they defamatorily brand us "racist" if we do so much as to dare to protest their reprehensible actions.
Nope. It's not about race — it's about the constitutionally guaranteed right to assemble peaceably, the right that the "Black Lives Matter" slacktivists selfishly, stupidly have come to believe they have the right to violate (as long as it's someone else's right to assemble peaceably, of course).
I'll tell you what is racist: refusing to call a black person on his or her bad behavior because of his or her race, that is, putting his or her race before his or her bad behavior. That is racist.
If the "Black Lives Matter" slacktivists want their agenda and their rights to be recognized by others, they at the same time need to recognize the agendas and the rights of others. Now.
In the meantime, Team Bernie needs to protect the constitutional right of those gathered to hear Bernie Sanders speak by employing the very apparently necessary security measures — as Repugnican or Billary Clinton a thing as that might feel like doing.
The needs and the rights of the many outweigh the needs and the rights of the few — something that the selfish, self-absorbed "Black Lives Matter" slacktivists need to realize, lest they fizzle out much sooner than any of them had realized could happen.
P.S. I see from further news reportage that, thankfully, Bernie Sanders had a second engagement in Seattle this date, that tonight he spoke to "a packed crowd" at the University of Washington campus — uninterrupted this time, apparently.
"No president will fight harder to end institutional racism and reform criminal justice system," Sanders told the crowd, according to The Associated Press. "Too many lives have been destroyed by war on drugs, by incarceration; we need to educate people. We need to put people to work."
The AP also added more details from today's earlier debacle in Seattle (emphasis in bold is mine):
When the crowd asked the activists to allow Sanders to speak, one ["Black Lives Matter"] activist called the crowd "white supremacist liberals," according to event participants.
After waiting about 20 minutes, Sanders himself was pushed away when he tried to take the microphone back. [That's called assault and battery — of a U.S. senator, no less; someone should have been arrested.] Instead, he waved goodbye, left the stage with a raised fist salute and waded into the crowd. He shook hands and posed for photos with supporters for about 15 minutes, and then left.
The AP reports that only two "Black Lives Matters" morons had managed to ruin Sanders' appearance today. Again, they should have been removed from the venue. I, a white man, certainly would expect to be removed — forcibly, if I refused to cooperate — were I to try to commandeer someone else's public event. To say that a black person similarly should not be removed because of his or her race — again, that's racist.
And "white supremacist liberals" — what a nice touch. And awfully ironic, coming from an apparent black supremacist.
That said, though, ironically, perhaps if you are a (guilty) white liberal who believes that blacks should not be held accountable to the same standards of behavior that white people would be — if, say, you believe that "Black Lives Matter" morons should just be allowed to selfishly, stupidly ruin public events — perhaps you are a "white supremacist liberal," since one who is not racist believes in equal treatment and equal expectations of and for everyone, regardless of his or her race.
P.P.S. The Washington Post reports that Bernie Sanders' crowd tonight in Seattle at the University of Washington was his largest crowd yet, at 15,000 people. The Post notes that thus far in this presidential election cycle, Billary Clinton hasn't garnered a crowd of even 6,000 people.
Gee, is this why the "Black Lives Matter" fascists are targeting Bernie? Because he's so popular, because more people want to hear him speak than they do any other presidential candidate, at least on the Democratic side?
At any rate, clearly the "Black Lives Matter" terrorists, who very apparently incredibly stupidly put the nation's race-based problems at Bernie Sanders' feet, are vastly outnumbered. And, methinks, because of their misguided and short-sighted tactics — and not because of their basic cause, which is just — their days as anything resembling a real political force quite potentially are numbered.
Update (Monday, August 10, 2015):
The Huffington Post now reports:
A day after being interrupted by Black Lives Matters protesters at a campaign event in Seattle, Washington, Democratic presidential candidate Sen. Bernie Sanders (I-Vt.) released a detailed platform on combating racial inequality.
Sanders' campaign posted the platform on his website [yesterday], and he addressed the issue of racial justice [last] evening in front of more than 20,000 supporters in Portland, [Oregon,] drawing his largest crowd yet along the campaign trail. Nearly 12,000 people attended Saturday's event in Seattle.
The platform delineates policy proposals pertaining to what Sanders calls "the four central types of violence waged against black and brown Americans: physical, political, legal and economic." …
So Bernie's crowds continue to grow by leaps and bounds. More than 20K is a lot of people. (Again, thus far Billary hasn't even hit 6,000 people, to my knowledge.)
Although Team Bernie has released a fairly detailed platform on racial justice (I will study it shortly), frankly, I don't expect the race-based harassment of him to stop. He was born while white, and so there's nothing that he can do to gain the favor of the most hard-core black supremacists (whom I think of as an awful lot like white supremacists, just black). Just sayin'.
I have been woefully negligent in not mentioning until now that as a U.S. senator, Bernie Sanders scored 100 percent — one hundred percent — on the NAACP's latest civil rights legislative report card. His vote on every piece of legislation that the NAACP found important was in line with the NAACP's wishes on that legislation.
Some people like to claim that Sanders hasn't done anything good on race-based civil rights lately, but the NAACP itself reports otherwise.
As I've noted, Sanders lives in and represents in Congress an overwhelmingly white state, but that doesn't mean that his heart and mind aren't in the right place. Those who judge his stance on civil rights primarily or solely based upon his race (and not upon his actual record) are — well, racist…
—
*If you're even tempted to claim that the First Amendment's guarantee of free speech allows public gatherings to be hijacked by a handful of terrorists to exercise their free-speech rights, I'd remind you that there are limits on the First Amendment, and that one's own right to free speech ends where others' rights begins.
I may not legally break into your home, for instance, in order to deliver you a soliloquy, claiming "free speech" as my defense.
There are time, place and manner restrictions on the right to free speech, which never has been absolute.